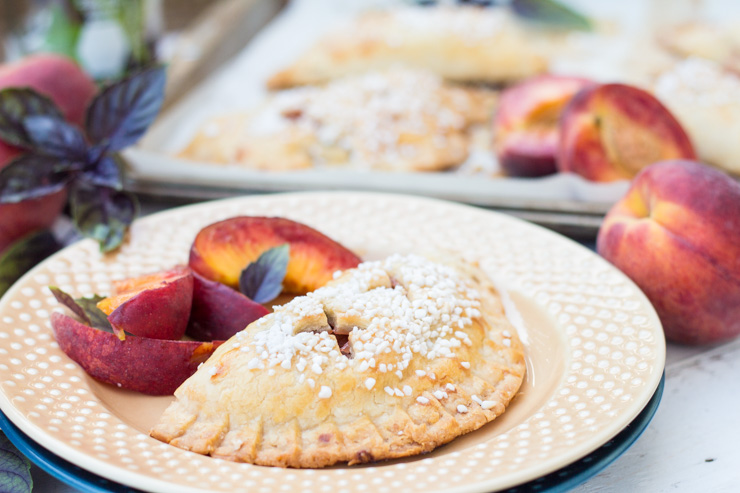 It's no secret that you aren't really a Southern boy unless you were raised on peaches and pecan (pies). This is the time of year that everyone starts getting super antsy about. When are the peaches going to be ready?! I don't see any market stands yet! *panics*
Fret no more, my sweet Southerners (at heart, even). It's time. To break in the peak, I present to you– Peach Purple Basil Hand Pies.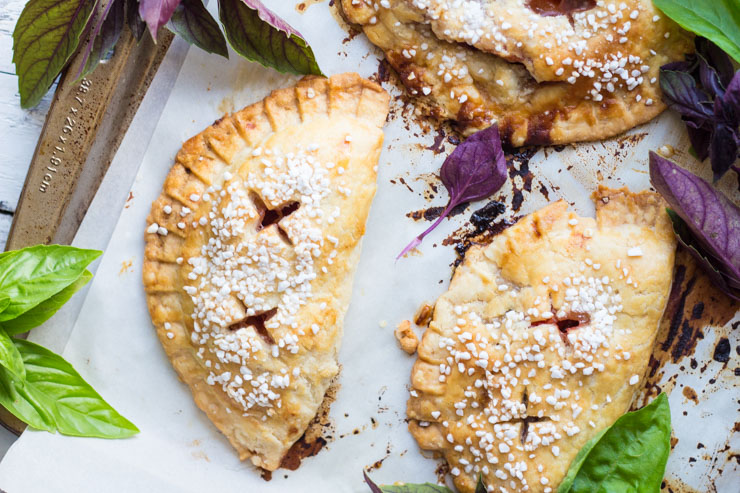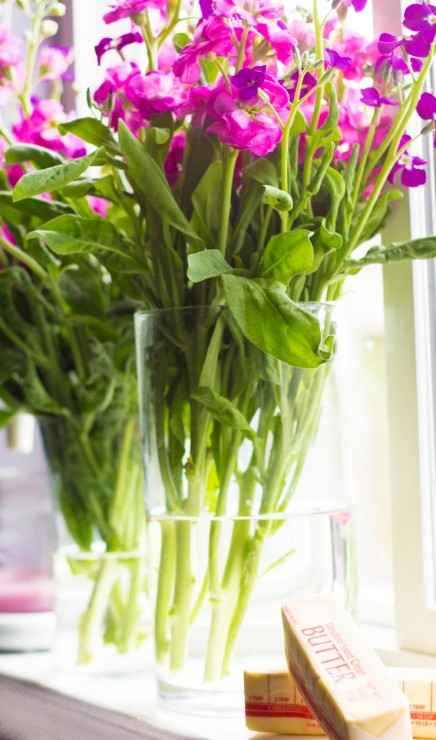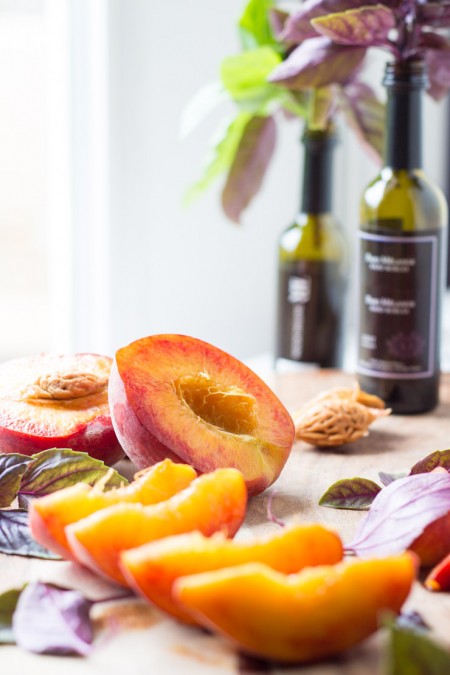 Now… Y'all already probably can assume my feelings on sugared, buttered, peach-filled pies that you could literally take anywhere. There's just nothing like a good ol' stick o' butter in the morning, right?! I'm pretty sure that it gets your heart pumping. That has to be a good thing.
Peaches. Millions of peaches…. I recently drove to the back of a hidden warehouse in Nashville to acquire a large box of Fiesta Gem peaches from a friend that helps run a super-famous local business, The Peach Truck. These guys bring super fresh Georgia goods from across the border, just a couple hours down the road, straight to eager Nashville hands.
When I say I got some peaches, I'm talking like 30 freakin' pounds. Instead of grabbing a few pounds like a normal person may, I just went ahead and put all of my cards in. Why not?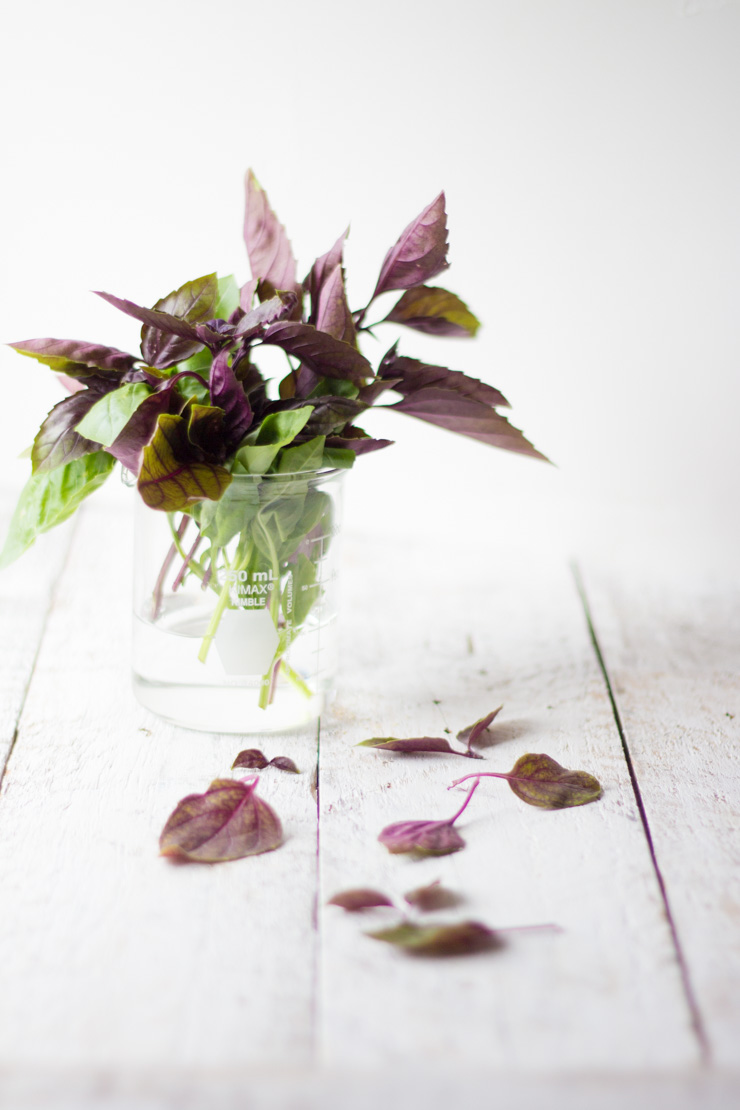 Now that we have described what sounds like a massive drug deal… Back to the pie.
Purple basil is probably one of those things you may have passed over when selecting your garden herbs for this summer. A good chunk of the herbs you planted from seed have died off and wilted away like a candy bar in your hands in the summer heat. You failed miserably (again) and just decided to cry your way over to the farmer's market and buy some damn starters that someone else grew to sustainability for you. Not that I'm speaking from experience of anything…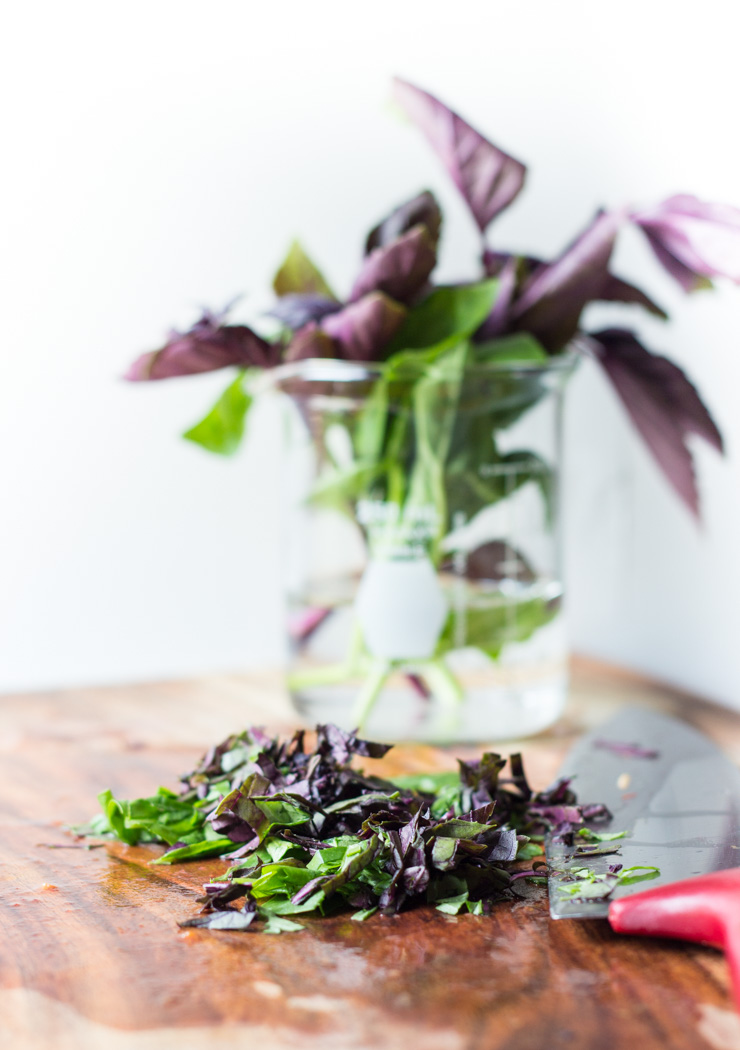 Purple basil is a great choice for a slightly different essence in your bakes. I don't want to say it has a slight licorice flavor, because everyone knows that licorice is absolutely disgusting.  Let's say that it has a bit more.. ehhh… aromatic flavor. Almost floral-like when baked. It gives you that expected basil flare while leaving you with a bit of hmmmmmm… in your bite. I've been using it for all kinds of things lately. I've decided that purple basil pesto will be frozen to pull out this Halloween.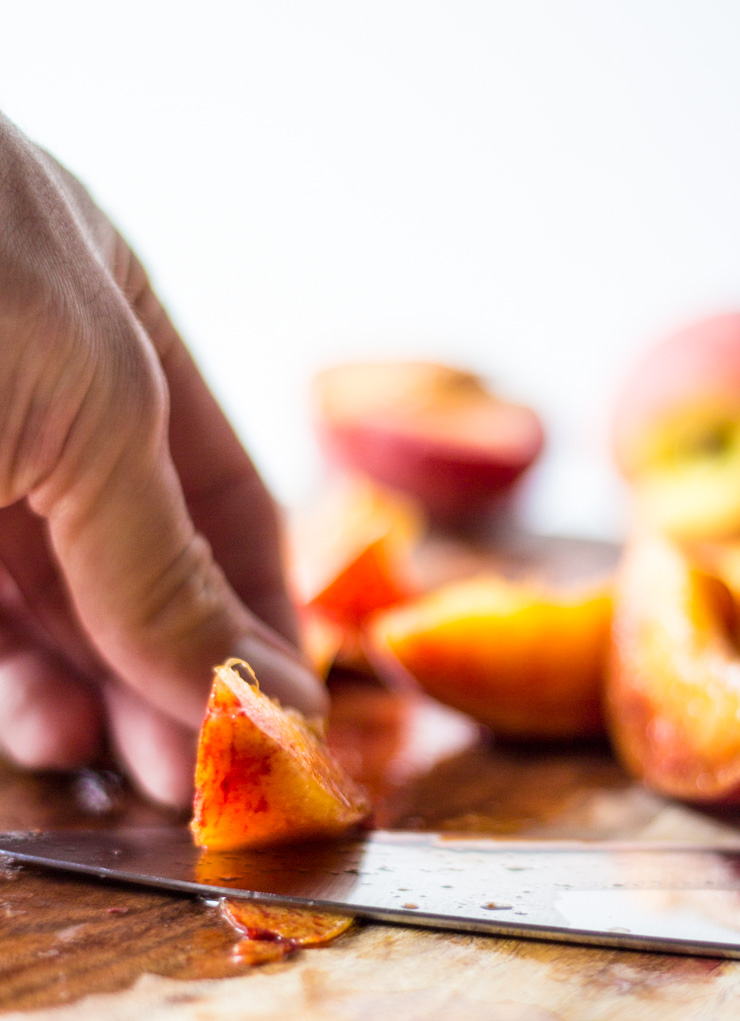 The mix in this recipe may sound a tiny bit… unique. Purple basil, sweet peaches, and some honey. I used a bit of spicy honey for the slightest little sting. Regular ol' honeybee hooch will work just fine if you don't have any spicy on hand.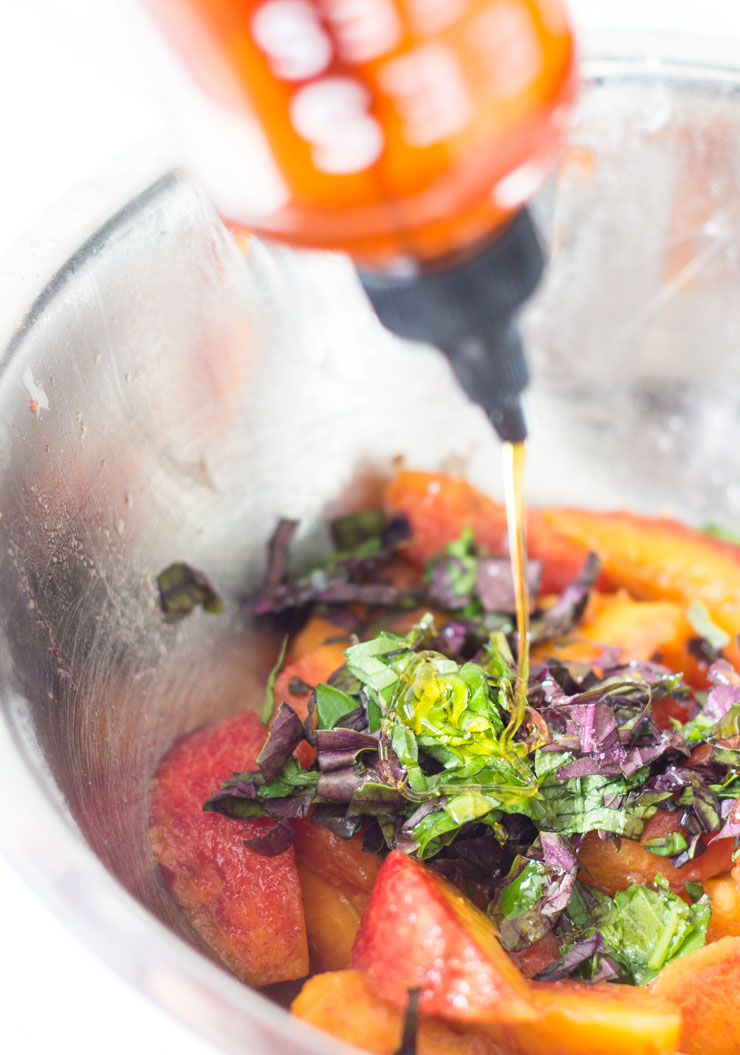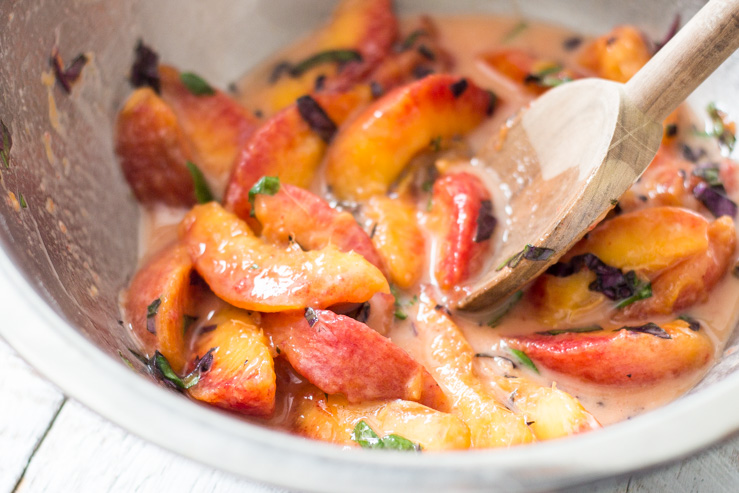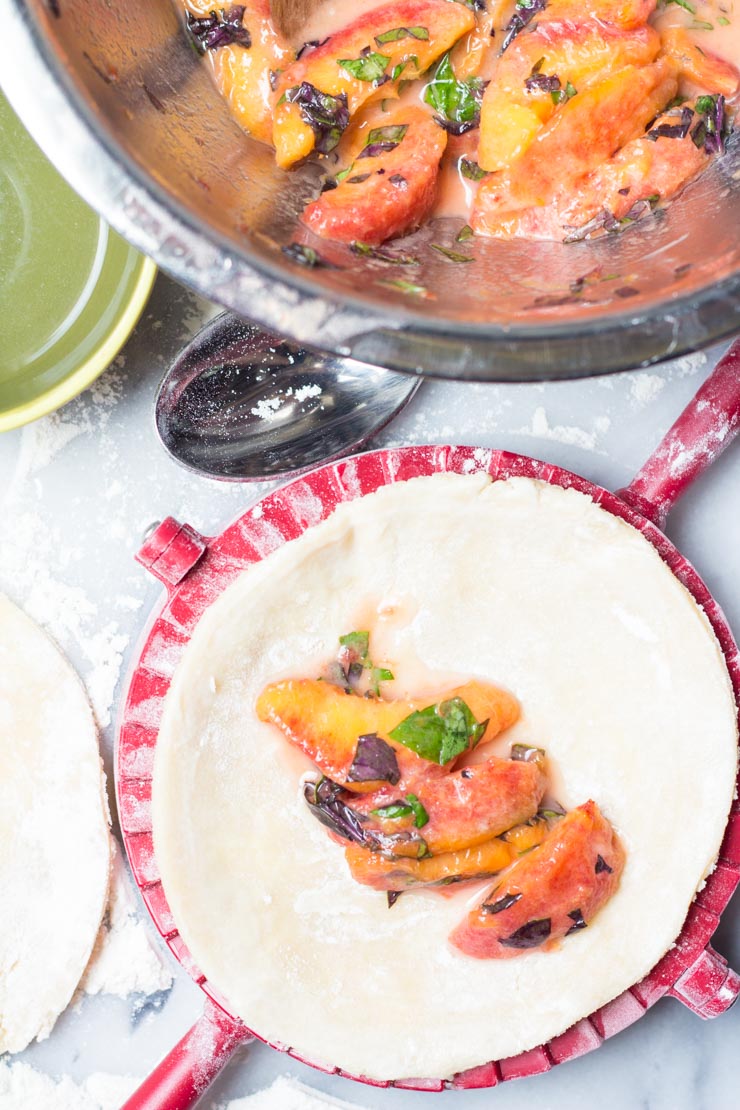 I had originally planned on making this into a traditional pie or galette. While those are just lovely and all, I started to think a bit. I was about to head out to travel a bit for the weekend… Portable was the answer. Hand pie! All of you folks out there that are addicted to those icing-glazed 2k calorie pie bombs from he grocery can pull up a chair in the support group. There's just something perfect about being able to hold a pie in your hand.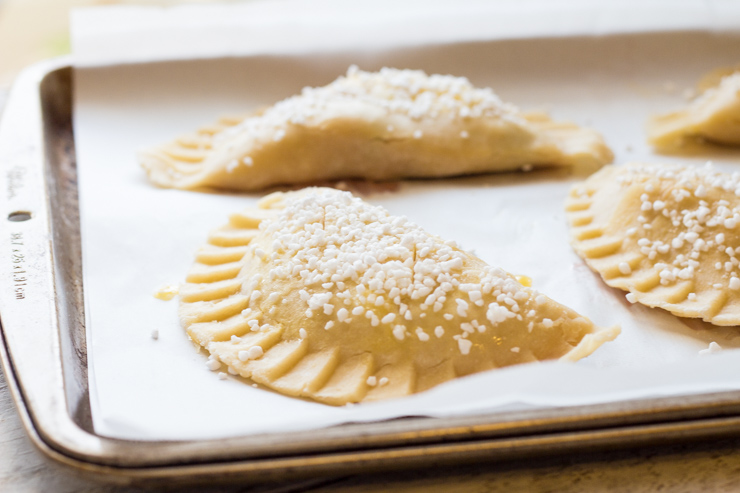 I cheated on shaping and used one of those fancy-pansy kitchen gadgets, a hand pie crimper. They call is a pocket pie crimper on Amazon… but, ummm, that sounds creepy. I'm not quite sure I ever want to know what a pocket pie is.
Crimped and primped, these pups are ready to bake. AFTER you totally cover it with… you got it– pearl sugar!
If you follow along here on the blog, you'll remember that I have had a slight addiction to this crunchy topping of confection perfection for the past few weeks. No shame. Get ya some. Now.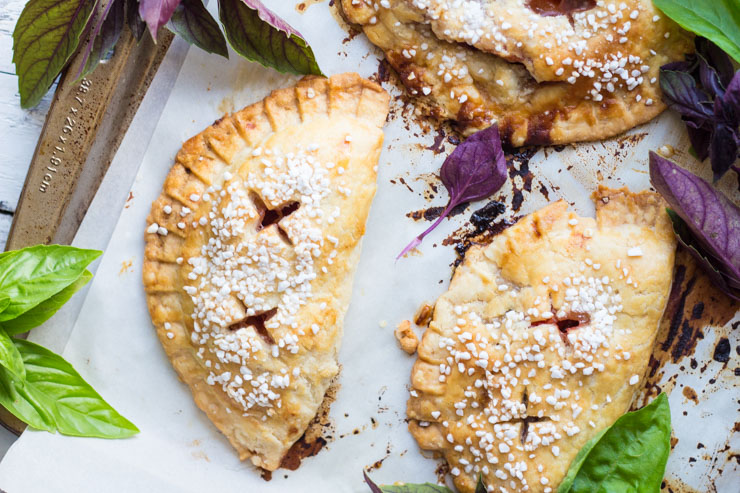 Ahhhhhhhhh! *angelic music*
Sugar-coated, sweet, flaky pastry dough wrapped around peach basil goodness. Go ahead. Lick the screen. Nobody will notice…
Peach Purple Basil Hand Pies
Peach Purple Basil Hand Pies from SouthernFATTY.com -- Sugar-coated, sweet, flaky pastry dough wrapped around peach basil goodness.
Ingredients
Pastry Crust
2 cups (250 grams) cups flour, AP
2 tablespoons sugar
1 teaspoon salt
2 sticks (226 grams) butter, unsalted, very cold
¼ cup water, ice water
Pie Filling
2 cups sliced peaches, any variety works!
⅓ cup honey (I used spicy honey for this)
3 tablespoons purple basil, chopped
1 and ½ tablespoons cornstarch
1 teaspoon vanilla extract
1 teaspoon lemon juice
pinch salt
Finishing
water
1 egg, beaten
1 tablespoon milk or cream
pearl sugar, to finish
Instructions
Pastry Crust
In a bowl, whisk together flour, sugar and salt. You can use a food processor or mixer or do this by hand.
Cut very cold butter into cubes. Add butter to flour mixture and combine very roughly. If using food processor, pulse 5-7 times. If using mixer, mix until it resembles a very coarse blend. By hand, pinch butter with flour. You want butter to clearly be visible in beads in the dough.
Add cold ice water and combine softly until just comes together.
Split dough in half. Place each ball in plastic wrap and press into a disc.
Chill dough for at least an hour or two before continuing with pies.
Filling
Combine all of the filling ingredients except for the starch into a mixing bowl.
Stir well and let sit for 20 minutes.
After 20 minutes, pour the liquid into a separate bowl and whisk cornstarch into it well.
Return liquid to peaches and combine.
Let sit another 10 minutes.
During this final rest, remove one disc of the pastry dough from the refrigerator and let rest for a couple minutes to slightly soften.
On a lightly floured surface, roll out the first disc into a rectangle, about ⅛-1/4" thickness.
If using a pie crimp tool, cut a circular guide from parchment to use for dough cuts. Otherwise, cut matching sized shapes for pies.
Place pie dough circle onto floured crimper (if using), use a finger dipped into water to edge the dough where crimping.
Fill with 1-2 tablespoons of peach filling.
Crimp well and transfer pie to a paper-lined baking sheet (with edges, preferably). If not using a hand pie tool, use a fork to seal the half-moon shaped pies shut.
Transfer full baking sheet to chill and repeat with second disc of dough.
Chill all pies for at least 10-15 minutes before baking.
Heat oven to 400 F.
Combine egg and milk/cream. Brush tops of pies with egg wash. Sprinkle pearl sugar to finish. Cut slits into pie tops to allow steam to escape.
Bake until golden, about 20 minutes. Coll on racks.
Enjoy! -- More at SouthernFATTY.com
Notes
Recipe can easily be split in half.
-----
2015 - SouthernFATTY.com
Follow along and say hello on Instagram for lots of other eye candy.