As a P.K. (Preacher's Kid in layperson speak), Easter was always a bit of a stressful day. Everyone would throw on their best dress; Mom would force me into some pastel sweater or children's clip-on bow tie. You know the drill. All of this didn't seem to matter though because, well, PEEPS®! Those delicious, sugar-coated sugar puffs made everything juuuuust fine.
Having made marshmallows before, I though I would see if I could birth a few beloved baby chicks of my own in the kitchen.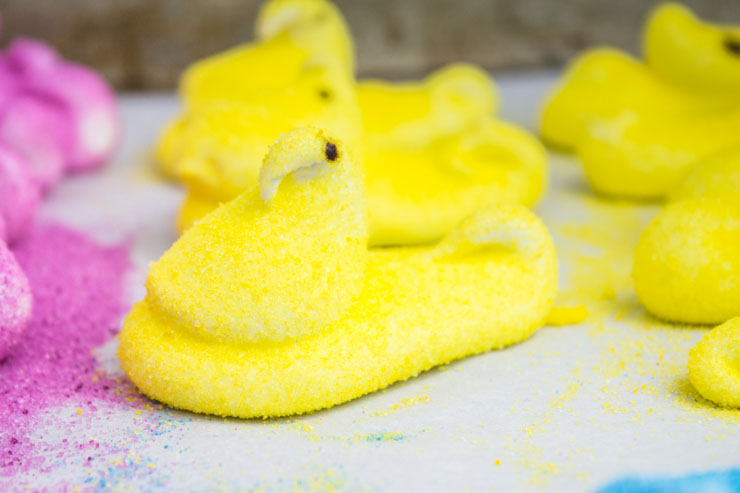 Spoiler alert:  IT WORKED! And I have to say… I even think mine taste better than the commercial store-bought version.
I would recommend buying a few (boxes) at the store to compare with. You can't have too many!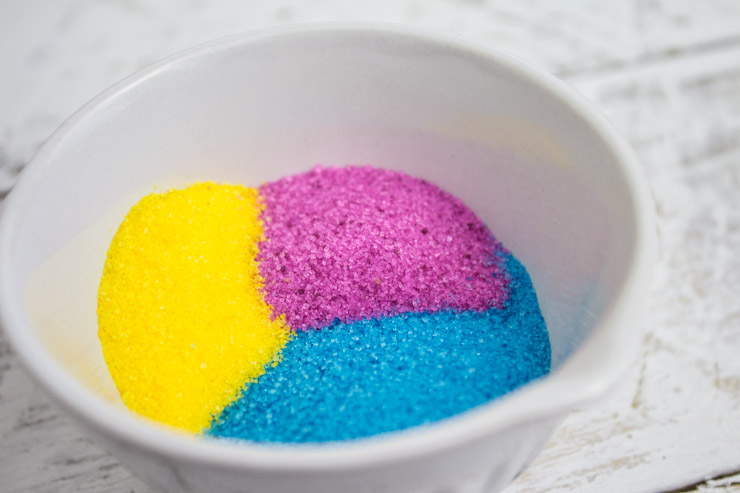 I started the process with regular granulated sugar. I used a cup in each of three Ziplock bags (good ones… not cheap thin ones, as they will break). Drop some gel coloring into the sugar, seal them up and go watch your favorite show. Maybe take some time to read our older posts or send us a hello on Facebook! This is going to take a bit.
Work the coloring (liquid, gel, powder– all work fine) into the sugar. Toss it around, roll it, throw it. Whatever you need to do. After several minutes, you will see perfectly-colored coating sugar. Who needs to go spend $5 on a tiny bottle again!?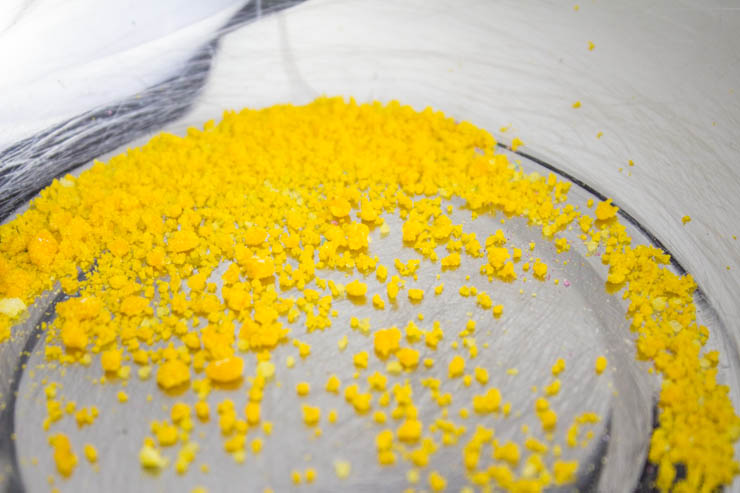 Be sure and sift the sugar fairly well to get rid of all of the larger clumps. Peep poop, if you will. Once you have made the marshmallow mixture (recipe below!), timing is the only thing you have to be careful about. If your mixture is too warm or doesn't have enough air in it (eg: didn't mix long enough), you will have a hard time getting the chicks to keep shape.
You can see below how to pipe the chick shapes. This is a good example of a mixture that is slightly too warm. I let the bag sit for a minute or two before piping the rest. Luckily, they held their shape better.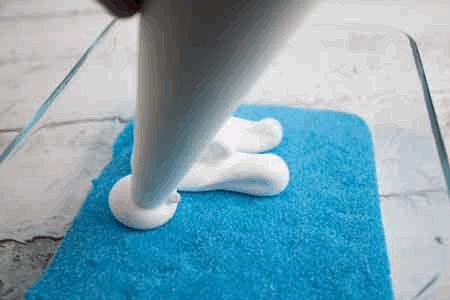 I piped my marshmallow goodies in a row of 5 chicks touching on the sides. I just couldn't imagine eating these without pulling them apart and having that exposed side. It just wouldn't have felt the same. Spoon more of the homemade colored sugar all over and let them rest.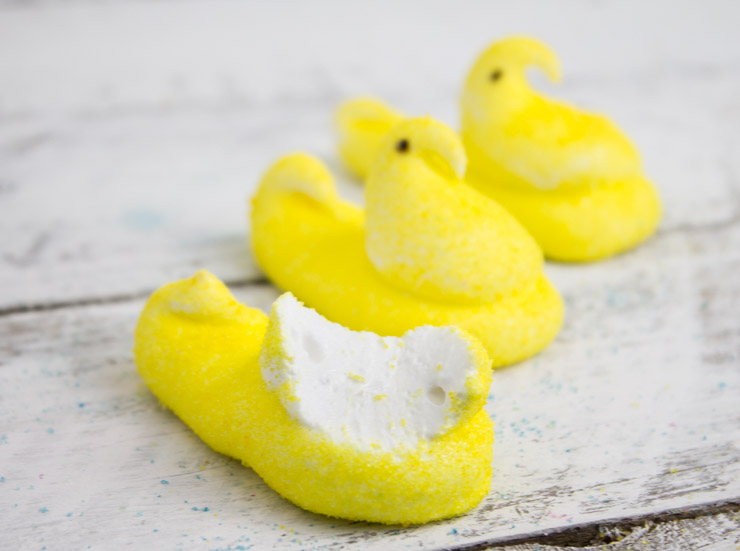 I may have not waited for these to cool and rest completely for the 30-40 minutes that I recommend. They were DELICIOUS! So soft and fluffy. The outer coating sugar was just perfect. Not too fine and just about the perfect color to bring back all of those sweet holiday memories, colored tongue and all.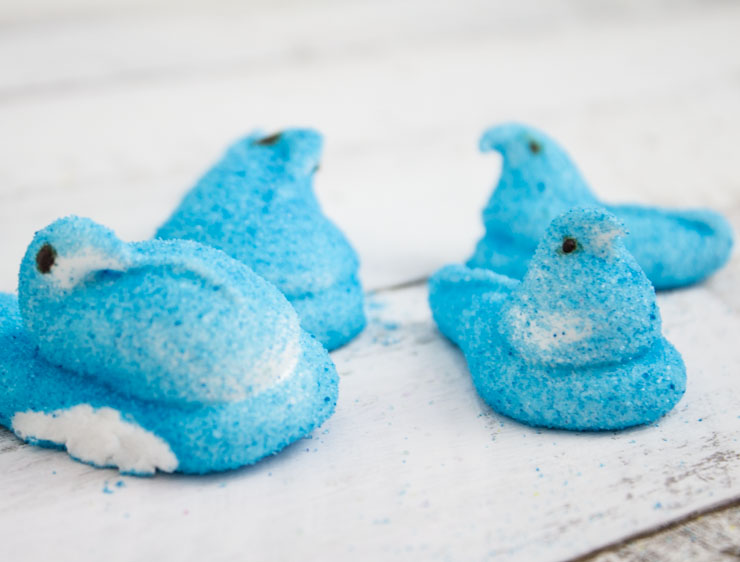 At the end of the piping bag, I managed to squeeze out two smaller chicks. I mean, why not make a blue Peeps family? Seems legit to me.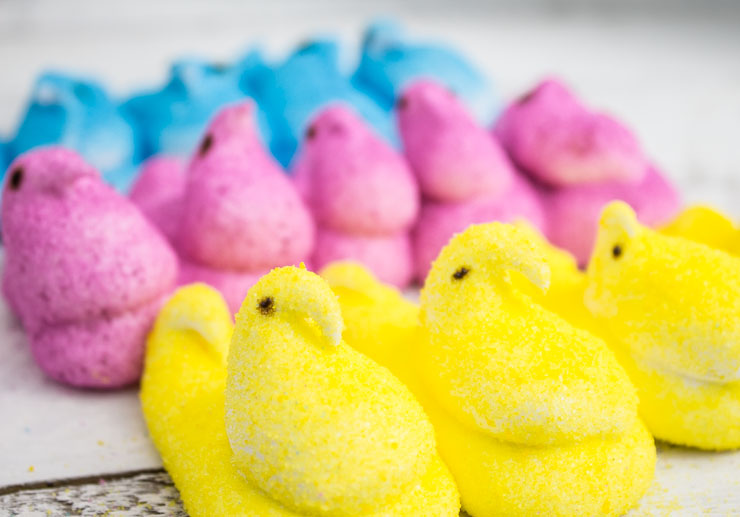 All in all, I was incredibly happy with how these turned out. The possibilities of shapes and styles are endless when you are able to just pipe out whatever you want to try. You'll certainly see these chirping up again on the blog.
Peeps® are a Registered Trademark of Just Born, Inc.
Homemade Marshmallow Peeps
Homemade Marshmallow Peeps from SouthernFATTY.com
Ingredients
Colored Sugar
1 cup sugar for each color, in Ziplock bag
food coloring, any type
Homemade Peeps
1 packet gelatin
⅓ cup water
1 cup sugar
¼ cup water
1 teaspoon vanilla extract
cocoa powder + tiny bit of water, optional - for eyes
Instructions
Colored Sugar
Combine 1 cup sugar in Ziplock bag with coloring.
Mix until well combined, several minutes.
Sift larger pieces out.
Homemade Peeps
In mixer bowl, put ⅓ cup cold water.
Empty packet of gelatin over water and let sit while you make sugar mixture.
In saucepan, combine 1 cup sugar and ¼ cup water.
Swirl to combine well.
Using a candy thermometer, heat over medium heat until it reaches soft ball stage (238 F).
Do not stir during this process. If crystals form on pan walls, use brush with water to dissolve it back down.
When at 238 F, remove from heat and slowly pour into mixer bowl with gelatin.
Stir by hand for a couple minute to break any gelatin lumps.
When cooled slightly, place on mixer with whisk attachment and combine at medium-high speed until white and somewhat stiff. About 8-9 minutes.
Immediately transfer to large piping bag (14" works well) with ½" tip. Alternatively, use gallon Ziplock bag with corner cut.
With colored sugar in a shallow dish, pipe chick shapes directly into the sugar. If the shape doesn't hold, let the mixture cool for a minute or two and try again.
See blog post for piping technique.
Use spoon to cover marshmallow chicks with sugar. Let cool for 30 minutes on tray.
Enjoy! -- Visit SouthernFATTY.com to tell us what shapes you made!
Notes
SouthernFATTY.com ®2014

Peeps® are a REGISTERED TRADEMARK of Just Born, Inc.
Comment below and let us know what shapes you decided to make!