Buffalo Blue Tots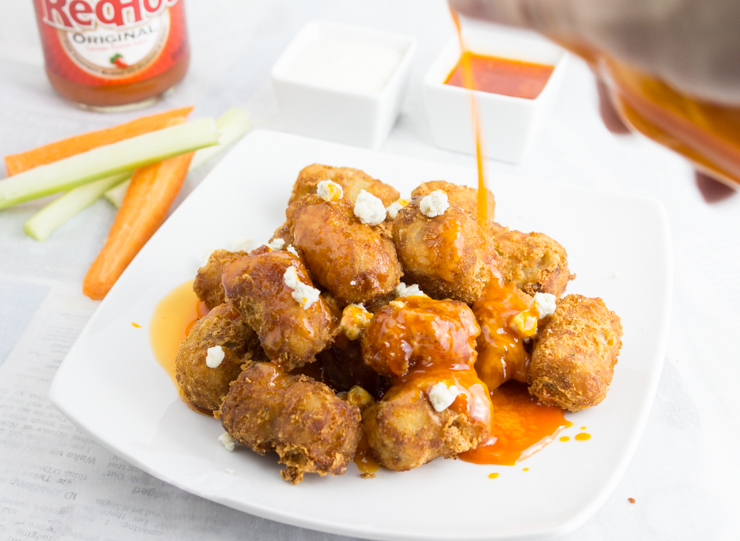 2 pounds potatoes, peeled and cubed (about ½-1 inch cubes)
1 cup blue cheese, crumbled
1-2 tablespoons Frank's Red Hot, optional
1 teaspoon salt
½ teaspoon garlic powder
½ teaspoon sugar
½ teaspoon black pepper
oil, for frying
Preheat oil in large pot or fryer to 350 F.
Rinse cubed potatoes in cold water, about a minute.
Dry cubed potatoes.
Fry cubes until golden, about 4 minutes, in batches as to not crowd and cool oil. Allow temp. to return to 350 F before each batch.
Drain fried potatoes on paper and cool completely.
When cooled, in batches place potatoes in food processor and pulse 5-6 times momentarily until left with smaller pieces. Do -not- over-process. You want the texture of the pieces.
Carefully mix in blue cheese, salt, garlic powder, sugar, pepper and 1-2 tablespoons of Frank's Red Hot (optional) to flavor tots.
Mold a heaping tablespoon of potato mixture in hands using method shown in post image. (Ring and middle finger molding while pushing top and bottom inward to form tot shape)
When tots are molded, carefully place each tot in 350 F oil and fry until golden. Do not overcrowd. After a minute or so of frying, be sure tots aren't stuck to each other while frying.
Enjoy! Visit SouthernFATTY.com for complete post with images. Let us know how everyone enjoyed them or if you made a different variation of flavor!