Banana Cream Mousse Tart with NILLA Wafers Crust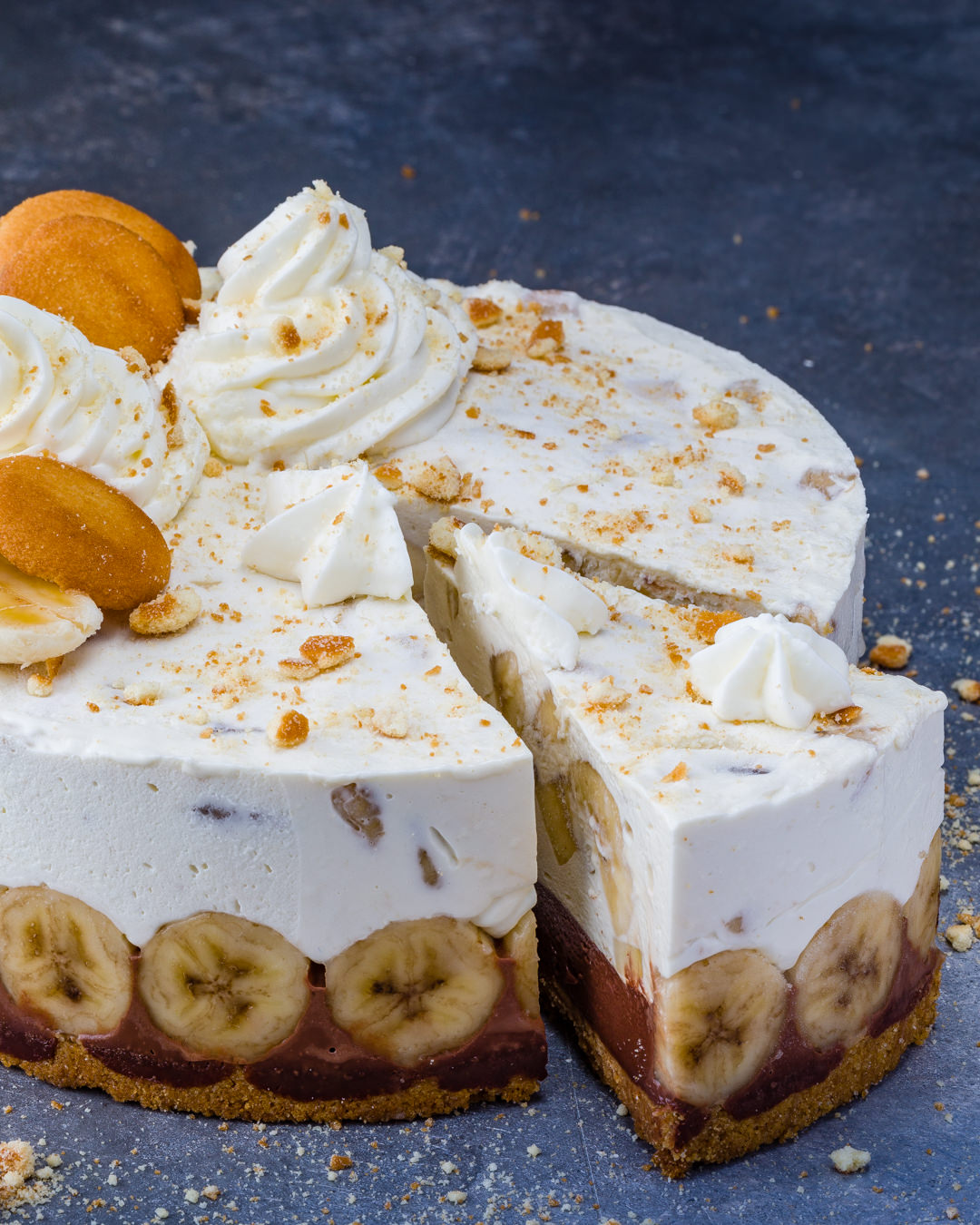 Author:
Phillip Fryman | SouthernFATTY.com
4 cups NILLA Wafers (click here to find at Kroger)
2 tablespoons sugar
6 tablespoons butter, unsalted
1 teaspoon vanilla extract
¼ teaspoon salt
12 ounces chocolate (milk or dark, your choice)
1 cup heavy cream
4 tablespoons butter, unsalted
3 tablespoons malted milk powder
2 bananas, chopped
8 ounces white chocolate, chopped finealy
2½ cups heavy cream, cold divided
3 tablespoons powdered sugar
¼ cup water, cold
2 teaspoons gelatin powder
¼ cup NILLA Wafers, crushed
½ cup whipped cream
1 whole banana, sliced in half
Preheat oven to 300 F.
Combine NILLA Wafers and sugar into a food processor (or a gallon ziplock if you don't have one).
Processor or crush until fine.
Gently melt butter, add vanilla and salt.
Mix well and press into pie or tart pan. I prefer to make this with a flat crust, but you can press it higher like a pie if you'd like.
Bake until golden and very well set, 20 minutes. Remove and cool completely to room temperature to set. This is the only baked element of the recipe.
Chop chocolate well so it will melt evenly. Place in large heat-safe bowl.
Simmer heavy cream until steaming (can microwave, but watch closely as you don't want to split or burn it).
Whisk in malted milk powder.
Add chopped butter to chocolate in bowl.
Pour hot cream over chopped chocolate and butter. Cover with plastic wrap and allow to sit for 5 minutes.
Gently stir with a spatula until completely melted and smooth.
Cool slightly to thicken, but still pourable.
Pour over crust in your desired pan.
I used a ring tart pan with acetate film around the edges with banana slices for adding the chocolate and mousse. This is optional, but creates a great modern look.
Allow to rest at room temperature for 30 minutes or until completely set before making and adding the mousse.
Sprinkle gelatin over cold water and allow to sit for 5 minutes to hydrate.
Heat ½ cup of the heavy cream to almost a boil.
Remove from the heat and add the gelatin mass. Stir gently to completely combine.
Pour hot cream over white chocolate.
Let rest, covered, for 5 minutes and then gently stir to fully combine.
Allow to sit and cool while continuing.
Whip the remaining 2 cups of cold heavy cream to just stiff peaks with powdered sugar.
GENTLY fold in chocolate to the whipped cream.
Fold in chopped bananas.
Pour over cooled ganache.
Allow to set in refrigerator for at least 1 hour.
Decorate as desired with crushed NILLA Wafers, whipped cream.
Enjoy!
Find more recipes on SouthernFatty.com.
Recipe by
Southern FATTY
at https://www.southernfatty.com/banana-cream-mousse-tart/