Bread Bowls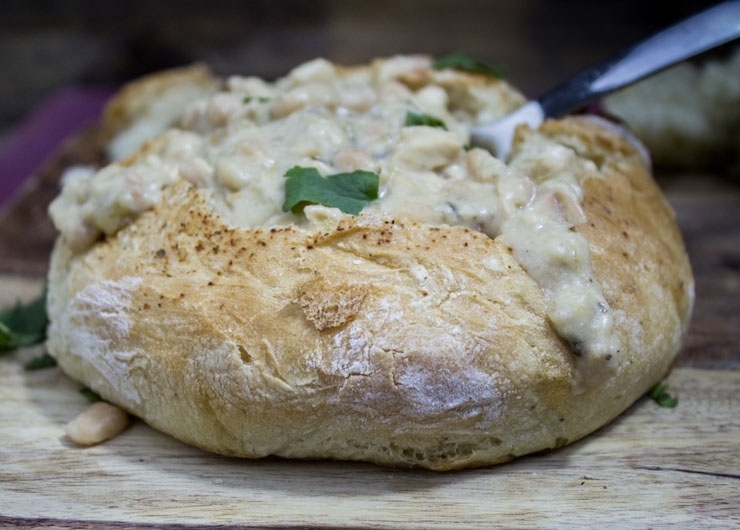 3½ cups bread flour (helps the rise)
1¼ cup hot water
1 packet active yeast (equil. to 2¼ teaspoons)
1 tablespoon sugar
1 tablespoon italian seasoning
½ tablespoon garlic powder
1 teaspoon salt
1 egg, white only
splash of water
olive oil
Dissolve yeast and sugar into hot water in mixing bowl. Let sit for ~ 10 minutes to activate.
Add flour, seasoning, salt, garlic powder and mix until well combined and pulls away from bowl sides.
Knead dough for ~ 5 minutes until smooth.
Put some olive oil in bottom of bowl. Transfer dough to bowl, coating entire ball well with oil.
Let rise in warm place (I prefer slightly warmed oven with water in bottom... see blog post for instructions) until doubled in size, about 30-40 minutes.
Remove and punch dough down. Divide into pieces and place on lined baking sheet.
Return to warm place to rise again until almost doubled, about 30 minutes.
Lightly brush egg/splash of water mixture on tops of dough.
Bake at 400 F until golden, 12-15 minutes.
Remove and cool to eat. Cut out center to fill with favorite chili or soup.
Visit SouthernFATTY.com and tell us what you made your bread bowl with or to see our perfect White Chili recipe to fill them with!