Aperol Spritz Elderflower Sorbet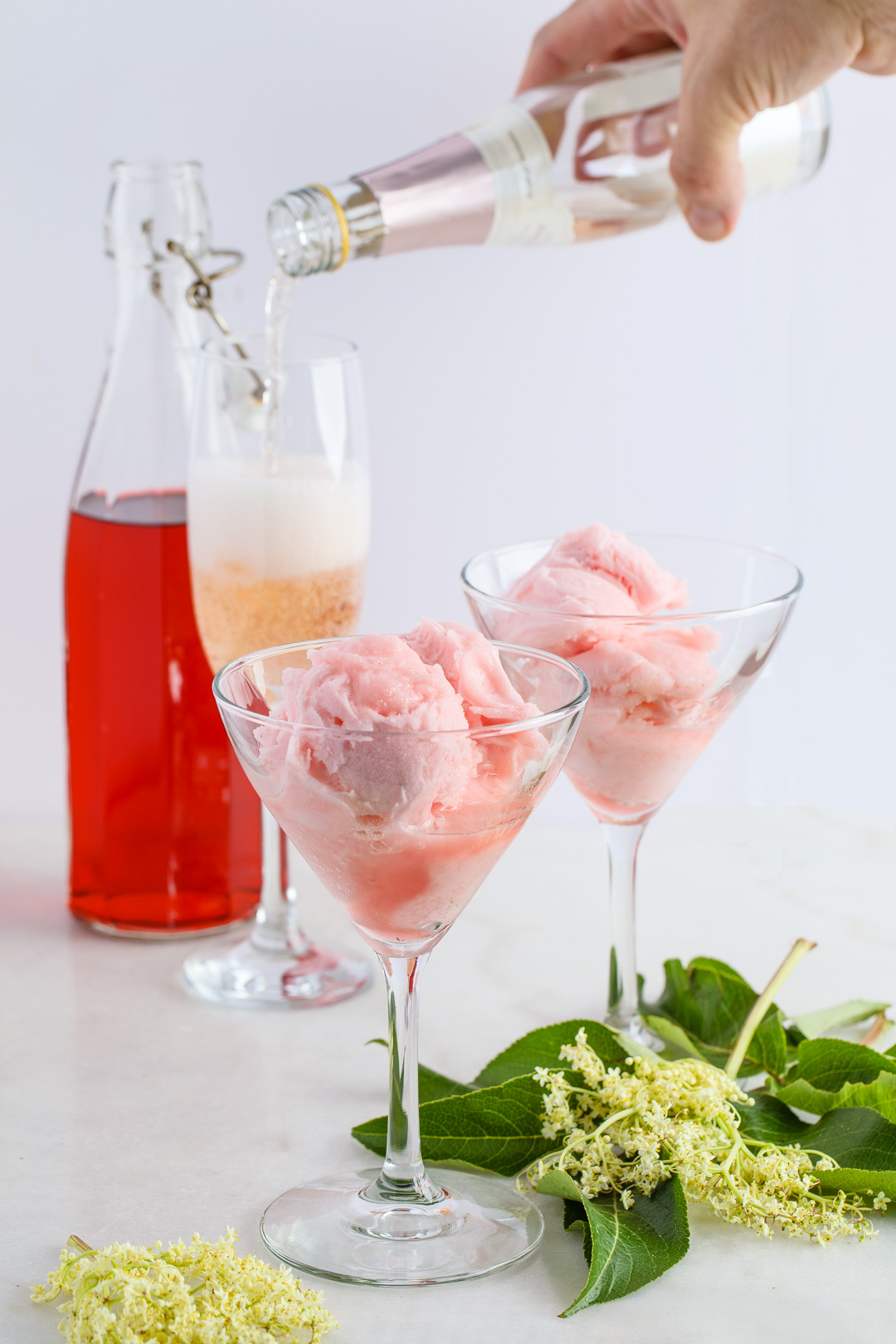 Author:
Phillip Fryman | SouthernFATTY.com
1½ cup water
1¼ cup sugar
1 cup light corn syrup
⅛ teaspoon guar gum, optional (see blog post explanation - find it available here)
2 cups of syrup (recipe above)
1 cup sparkling rosé or Prosecco (any sparkling white base will work beautifully)
1 cup Aperol liqueur
½ cup elderflower cordial (find it here)
¼ cup water
1 tablespoon lemon juice, fresh
water or syrup, as needed (see blog post)
1 egg, fresh (see blog post)
Start by making the syrup.
Combine water, sugar, corn syrup and optional guar gum in a blender.
Blend until fully mixed, 1-2 minutes at medium speed.
Pour into a container and set aside.
In a small saucepan, combine sparkling spirit (rosé or Prosecco, etc.) and Aperol.
Over medium heat, simmer until reduced for 10 minutes.
Remove and cool completely.
Combine this reduction with elderflower cordial, 2 cups of syrup, lemon juice, and water.
Mix completely.
To test for proper sorbet density, place a cleaned whole egg into the base mix.
If the egg sinks, you need to add additional syrup (made in step 1). If the egg floats too much, add additional water.
The goal is to see a quarter or penny-sized top of the egg float.
Transfer the base to chill completely, at least an hour or two.
Once chilled, transfer to an ice cream machine.
I prefer to use a KitchenAid Ice Cream attachment for this.
Mix until solidified, about 10-15 minutes per ice cream maker instructions.
Alternatively, you can pour into a freezer-safe ice cream container (metal loaf pans work well, too) and stir then return to freezer every 30 minutes until solid.
Transfer to freezer-safe ice cream container and freeze completely, preferably overnight.
Scoop and enjoy! I prefer it with an extra splash of rosé bubbles.
Find more recipes on SouthernFatty.com.
Did you make this? Share on social media by tagging @southernfatty / #southernfatty.
Recipe by
Southern FATTY
at https://www.southernfatty.com/aperol-spritz-elderflower-sorbet/