Cinnamon Marshmallow Iced Shortbread Cookies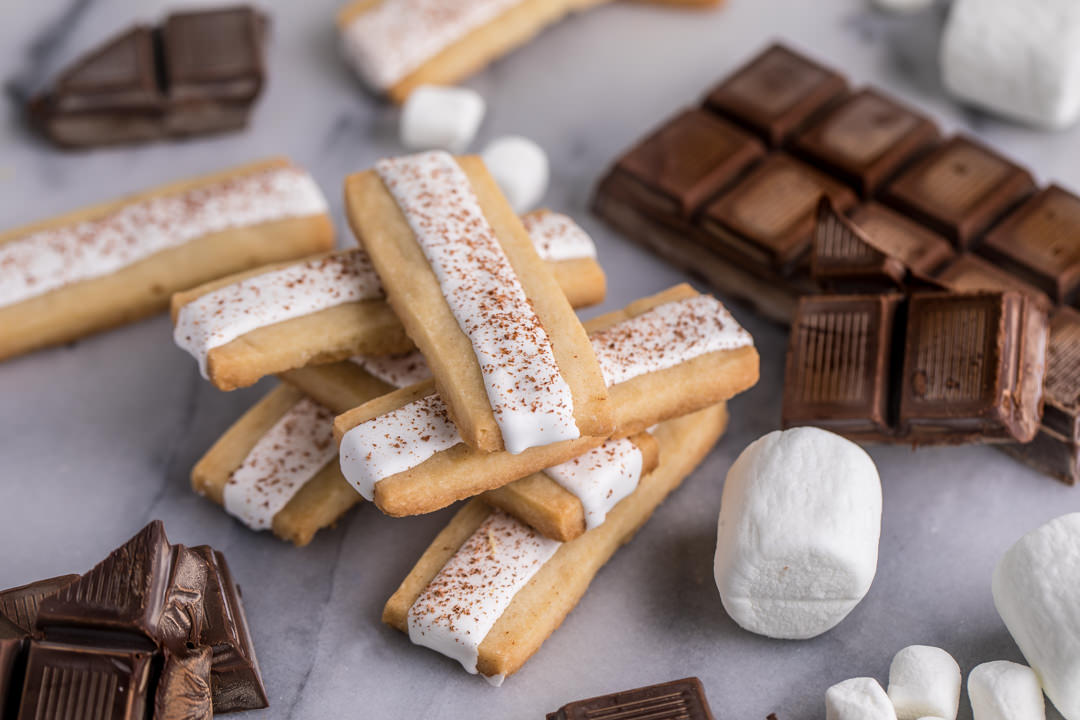 Author:
Phillip Fryman | SouthernFATTY.com
2⅔ cup (330g) flour, AP
16 tablespoons (220g) butter, unsalted, softened
⅔ cup (110g) powdered sugar
½ teaspoon salt
1½ cups (140g) marshmallows
1 tablespoon (15g) water
2 egg whites
½ teaspoon cream of tarter
2½ cups (315g) powdered sugar, sifted
Boar's Head Dark Chocolate Hummus
cinnamon, ground
Cream butter and sugar in mixer 2-3 minutes until soft and fluffy.
Mix in flour and salt JUST until combined. Take care to not overwork.
Transfer to plastic wrap in a disc and chill for at least 1 hour. This is very important to relax the dough and chill the butter completely.
If chilled for longer period, or dough is too hard to roll out, let rest at room temperature for 15-20 minutes until pliable enough to roll.
Roll out dough evenly. -- I rolled my dough to 6mm thickness.
Slice cookies into equal rectangles. Transfer carefully to parchment lined baking sheet.
Return cookies to the refrigerator to chill for at least 15 minutes.
Preheat oven to 350 F / 180 C.
Bake for 10 minutes, until slightly golden.
Remove to cool completely on the pan before transferring to rack.
In a LARGE microwavable bowl, place marshmallows and water.
Microwave for 1 minute and remove. Marshmallows will double in size.
In a separate bowl, add egg whites and cream of tarter (to stabilize).
Beat with whisk/mixer until foamy.
Add marshmallow, powdered sugar, vanilla, and mix completely.
If mixture is too thin to pipe and hold its shape, add additional powdered sugar.
Transfer mixture to a piping bag with a very small cut to open.
Pipe lines on the shortbread and then pipe frosting in the middle to fill. Use a knife or pointed tool to paint the glaze completely into the lines to flood the space.
Sprinkle the tops with cinnamon.
Set cookies aside to allow glaze to dry completely. These can be made the day before and chilled.
Enjoy cookies with Boar's Head Dark Chocolate Hummus to elevate the treat.
Find more recipe on SouthernFatty.com
Recipe by
Southern FATTY
at https://www.southernfatty.com/cinnamon-marshmallow-iced-shortbread-cookies/