Crispy Baked Parmesan Zucchini Fries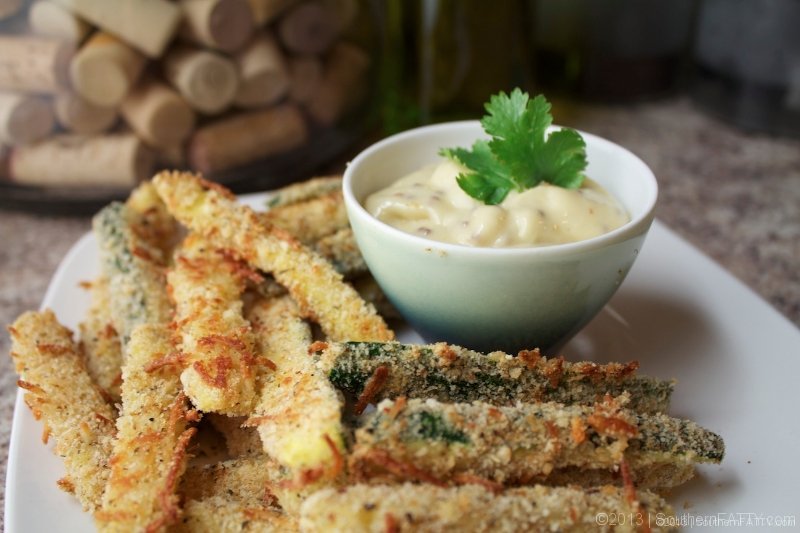 2-3 zucchini squash
2 eggs, beaten
¼ cup Parmesan cheese, grated
1 cup bread crumbs, Italian or regular
1-2 tablespoons dried Italian seasoning
¼ teaspoon salt (optional)
½ teaspoon crushed red pepper (optional)
Papa John's Seasoning Packet (optional, but amazing!)
black pepper, to taste
Preheat oven to 400 F.
Line baking sheet with parchment paper for easy cleanup and to prevent sticking. Spray pan instead if no paper.
Mix dry ingredients together in a prep bowl along with the Parmesan cheese.
Beat eggs in separate prep bowl.
Slice zucchini into sticks. Aim for sticks that all have the same general size for even baking. You may leave or remove the skins. I prefer them on!
Setup your stations... Zucchini on the far left, egg wash next, followed by the dry ingredients.
Keep your left hand wet, right hand dry! Take individual zucchini sticks and dip them in egg wash using one hand, placing them in the dry ingredients after. Use your dry hand to make sure they are coated well.
Transfer to baking sheet.
Cook until golden, about 20 minutes. Flip halfway through.
Enjoy! ...And one last thing-- Be sure to send us pictures and comments with your results!
Recipe from SouthernFATTY.com || Sharing encouraged with proper credit given.
Recipe by
Southern FATTY
at https://www.southernfatty.com/crispy-parmesan-zucchini-fries/