Raspberry Habanero Margarita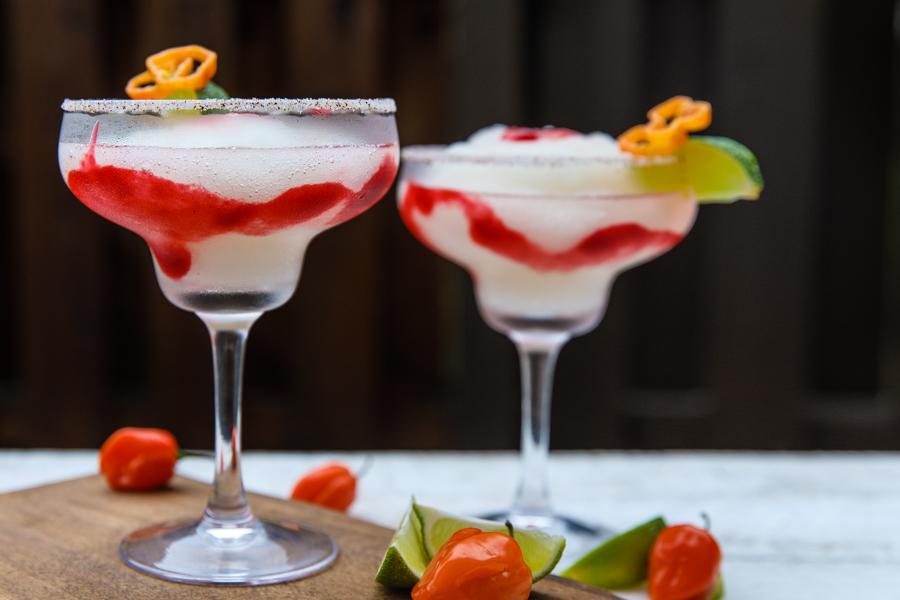 Author:
Phillip Fryman | SouthernFATTY.com
2 cups ice (crushed works best)
4 ounces tequila
4 ounces lime juice, fresh only
2 ounces triple sec (Cointreau works best)
1½ ounces simple syrup
6 ounces raspberries
⅓ cup sugar
1-2 habanero peppers, seeded and sliced
2 tablespoons water
½ ounce lime juice, fresh
¼ cup sugar
1-2 teaspoons chili powder
Combine syrup ingredients in a small saucepan over medium heat.
Cook for 5-10 minutes until thickened, stirring often.
Strain mixture completely into a fresh bowl and chill until needed.
Combine margarita ingredients into a good quality blender.
Blend until smooth.
Rub a lime wedge around the rim of the glass. Dip into sweet and spicy rim mix.
Stir the raspberry syrup made previously and place a tablespoon or so into or around the inside of the margarita glass.
Pour in blended mix.
Enjoy!
Find more on SouthernFATTY.com.
Recipe by
Southern FATTY
at https://www.southernfatty.com/raspberry-habanero-margarita/