Simple Chocolate Tart + Sugared Raspberries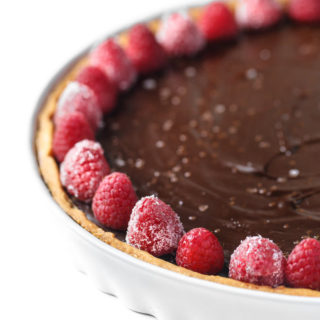 Author:
Phillip Fryman | SouthernFATTY.com
¾ cup (200g / 1½ stick) butter, unsalted, cold (I prefer European butter for this)
½ cup (70g) confectioners sugar
1 egg yolk
½ teaspoon vanilla extract
2 cups flour (250g), sifted or whisked
pinch salt
1 and ¼ cup heavy cream
12 ounces chocolate (I used THIS chocolate for half, and half of Trader Joes dark bar)
1 tablespoon butter, softened
1 tablespoon crème de cassis liquor, optional but really great with dark chocolate
6 ounces raspberries
1 egg white
granulated sugar
flake sea salt, to finish
If making the sugared raspberries, start with those:
Set oven to warm and let heat for a few minutes. Turn oven off but leave closed.
Brush the raspberries with egg white, lightly.
Roll berries in sugar and place on baking sheet.
Place berries in oven with door cracked open to dry out, about 10 minutes.
Remove and chill.
Add cold butter to mixer with paddle attached. I prefer a paddle with a scraper built in, like THIS one.
Beat for a couple minutes to soften, but remain cold.
Add confectioners sugar and combine well until smooth but still quickly to keep cold.
Add egg yolk and salt. Mix on medium speed until incorporated.
Add flour and give it a couple turns in the mixer to slightly incorporate.
Move mixture to a cold surface. I prefer a marble pastry board, but a clean countertop will work as well.
Pull mixture into a small ball, flatten, and repeat a few times until homogenous and dough-like. It may still be slightly loose.
Take the ball of dough and press your palm into a small section at one end, pushing outward. Repeat this until the whole dough mixture has been pressed. This will mix without over-mixing. Only press each section a single time.
Combine the dough and wrap in plastic in a disc.
Chill for 30 minutes minimum, preferably an hour.
Roll out dough evenly to a large disc.
Lay into tart pan, press lightly into the corners and even the top.
Freeze dough in pan for 15 minutes.
Pre-heat oven to 375.
Poke holes in entire bottom of shell with a fork. This allows steak to escape.
Place a sheet of foil completely over dough and fill with ceramic blind-naking fillers or rice.
Bake tart for 15 minutes.
Remove foil and return to oven until golden, about 10 minutes. Take care to not burn the edges. You may need to cover the edges with foil if they brown too quickly and the bottom is not ready. You can use a handy crust guard as well.
Remove to cool completely.
Warm cream in saucepan over medium heat until just starts to bubble.
Pour over chopped chocolate in large bowl.
Allow to sit for 4-5 minutes before any stirring.
Add soft butter, creme de cassis (is using), and with a spatula, carefully fold until completely smooth and combined. Be gentle to not incorporate any air.
Pour into cooled shell.
Allow to set at room temperature.
Decorate with sugared raspberries and flake seat salt.
Can chill and bring out an hour or two before serving, if desired.
Find more on SouthernFATTY.com!
Recipe by
Southern FATTY
at https://www.southernfatty.com/simple-chocolate-tart-sugared-raspberries/