Whiskey Cream Caramel Popcorn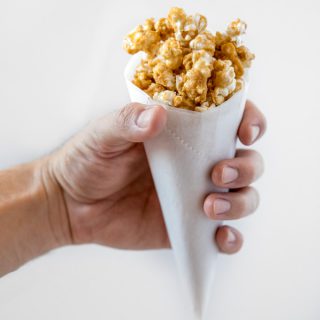 Author:
Phillip Fryman | SouthernFATTY.com
1 recipe of popcorn, buttered or plain (microwave bag works fine!), popped and cooled
1¼ cups sugar
⅓ cup corn syrup
¼ cup brown sugar
¼ teaspoon salt
3 tablespoons butter
1 teaspoon baking soda
Prepare a baking sheet by lightly spraying with non-stick spray or by using a silicone baking mat.
Spread popcorn on baking sheet.
In a large saucepan, combine sugars, syrup, salt.
Cook over medium heat until it reaches 300 F, using a candy thermometer.
Once it reaches temperature, remove from heat and add in butter and cream. Stir well.
Add baking soda and stir.
Pour directly on popcorn, mix carefully with greased spatulas.
Let cool completely and enjoy!
Find more on SouthernFATTY.com.
Recipe by
Southern FATTY
at https://www.southernfatty.com/whiskey-cream-caramel-popcorn/