Fig Bourbon Caramel Gelato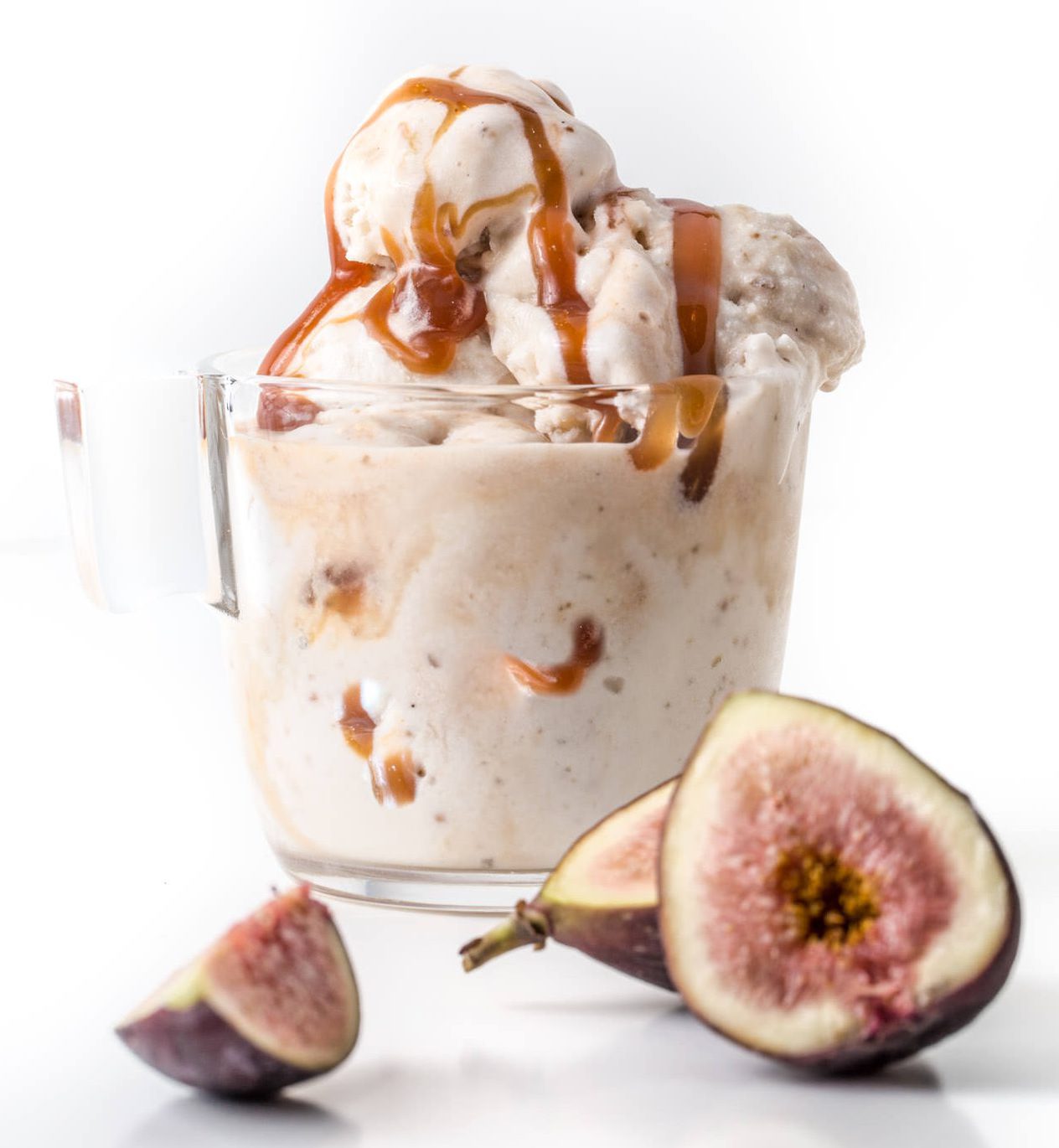 Author:
Phillip Fryman | SouthernFATTY.com
1 cup brown sugar, packed
½ cup light cream
1 tablespoon corn syrup
2-3 tablespoons Kentucky bourbon
4 tablespoons butter, softened
pinch salt
6 figs, quartered
3 tablespoons honey
2 tablespoons light brown sugar
2⅓ cups (580g) whole milk
¾ cup (175g) heavy cream
½ cup (115g) sugar
1 tablespoon (10g) cornstarch
½ cup (40g) milk powder
1.5 oz (or 3 tablespoons / 40g) cream cheese, room temp.
large pinch of salt
Combine brown sugar, cream, corn syrup, butter and salt.
Cook over medium heat in saucepan, about 8 minutes. Stir frequently.
Add bourbon and stir until thickened and smooth.
Remove from heat and cool.
Pre-heat oven to 400 F.
Combine figs, honey, and brown sugar in baking dish.
Roast until caramelized and fragrant, about 10-15 minutes.
Remove and cool. Keep the honey liquid.
Combine milk, cream, honey liquid from roasting the figs, half the sugar. Set aside.
In a bowl, mix together other half of sugar, milk powder, cornstarch.
Add ½ cup or so of the milk solution you first made to the dry mix and stir to combine completely.
Add remaining milk mix to a saucepan over medium-lo heat.
When steaming, slowly add the cornstarch slurry and whisk to combine.
Bring to a gentle boil and cook for 1 minute, stirring continuously.
Remove from heat and mix in cream cheese, pinch of salt, and the roasted figs.
For best results, use an immersion blender to fully blend.
Cool and transfer to a container to chill completely.
Setup ice cream machine with chilled bowl, etc. as instructed.
Transfer mixture and freeze completely per machine instructions.
When frozen and smooth, transfer gelato to freezing container and swirl in bourbon caramel.
Freeze completely and enjoy!
Find more recipes on SouthernFATTY.com.
Recipe by
Southern FATTY
at https://www.southernfatty.com/fig-bourbon-caramel-gelato/