Blackberry Lavender Cream Paletas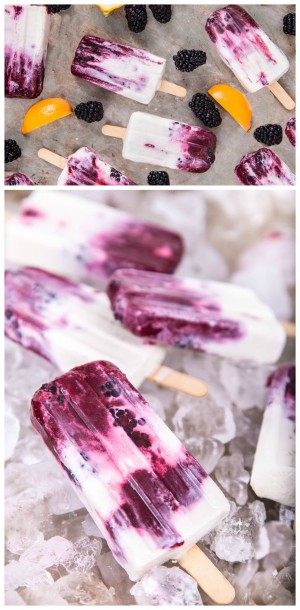 Author:
Phillip Fryman | SouthernFATTY.com
Cuisine:
American, Mexican
1 cup whole milk
½ cup cream (light or heavy, optionally replace with more milk)
2 teaspoons dried lavender
2 tablespoons sugar
whole Driscoll's Organi Blackberries
In a small saucepan over medium-low heat, combine milk, cream, sugar, lavender and simmer for 5 minutes.
Note: This amount of lavender gives a fairly strong flavor. Reduce amount before steeping if you prefer less.
Remove from heat and strain. Discard lavender buds.
Chill cream mix until cold. (I put mine in the freezer for 5-10 minutes)
Combine whole organic blackberries, sugar, meyer lemon juice and zest in blender.
Puree until smooth.
Strain well and reserve juice.
I prefer to start by adding blackberry puree, followed by a couple whole berries, carefully layer cream on top and drop a few more berries inside.
Add a bit of the remaining blackberry puree to the top.
Place stick and freeze (preferably overnight).
Enjoy!
Find more recipes like this one at SouthernFATTY.com.
Recipe by
Southern FATTY
at https://www.southernfatty.com/blackberry-lavender-cream-paletas/