Kiki Key Lime Meringue Tart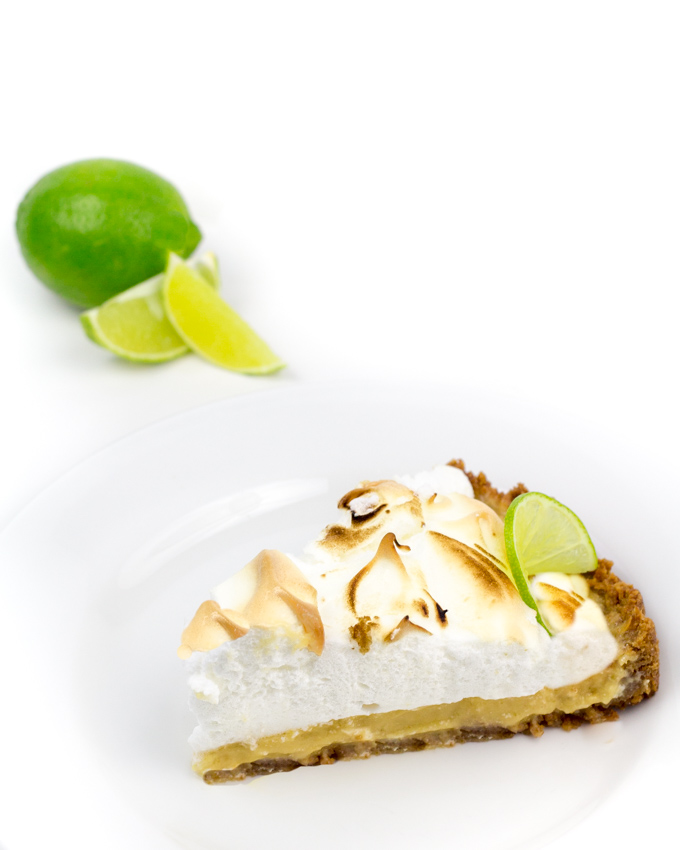 Author:
Phillip Fryman | SouthernFATTY.com
1 and ½ cups graham crackers, roughly crushed
¾ cup almond slivers or slices
⅓ cup sugar
5 tablespoons butter, unsalted, melted
pinch salt
14 oz sweetened condensed milk
½ cup key lime juice (try to stick with fresh key limes for best results)
5 egg yolks, from large eggs (use the whites for the meringue)
½ tablespoon lime zest, grated
5 egg whites (leftover from using yolks for filling)
¼ cup sugar
pinch cream of tartar (optional, but helps greatly to stabilize)
Pre-heat oven to 350 F.
Combine almonds and sugar in food processor. Pulse until almonds are well incorporated with sugar.
Add graham and pulse until roughly crushed.
Transfer to bowl. Add melted butter and pinch of salt. Mix well.
Press crust into pan well and bake for 10 minutes until well-set.
Remove to a rack to cool, but leave oven on at 350 F.
Combine sweetened condensed milk, lime juice (preferably fresh squeezed key lime juice), yolks, and zest until well-mixed. Keep egg whites in a covered bowl for meringue later.
Transfer filling to cooled crust.
Bake for 15 minutes.
Remove and cool to room temperature. Transfer to refrigerator and chill completely, at least 2-3 hours.
Allow egg whites to reach room temperature if they were kept cool while pie was chilling.
When ready to serve, add egg whites to very clean mixer bowl. Add cream of tartar for more stable meringue.
Beat until soft peaks. Gradually add sugar and continue to beat until stiff peaks.
Transfer meringue to top of tart and place on low rack in oven under broiler to toast top. Watch carefully, as this happens very quickly.
Enjoy and share with friends! Find more recipes on SouthernFATTY.com
Be sure to come back to the post and let us know how much you liked this recipe by leaving a comment on the bottom of the post and by tagging us on social media photos using @SouthernFATTY.
Recipe by
Southern FATTY
at https://www.southernfatty.com/key-lime-kiki-meringue-tart/