Grilled Poblano Turkey Sliders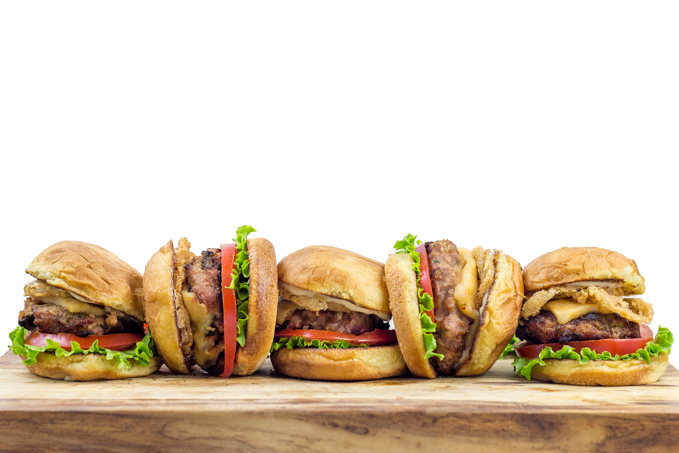 Serves:
8 sliders per pound of meat
2 poblano peppers
1 lb ground turkey
½ teaspoon garlic powder
1 teaspoon Worcestershire sauce
2 tablespoons ricotta cheese
½ cup breadcrumbs
salt & pepper
¾ cup mayo
2 cloves garlic
1 lemon, juiced
cheese (I used chipotle jack)
tomato, lettuce, onion rings, etc., to finish
slider buns (you can actually find buns made just for these at your grocery)
Kingsford Charcoal, for grilling
Light charcoal and prepare by grill/charcoal instructions.
When grill is pre-heated and ready, place poblano peppers over heat and cook under softened and charged on all sides, about 2 minutes per side.
Transfer peppers to cutting board and let cool to allow handling.
When cooled enough, peel outside char layer off and cut off stem top. Split and de-seed.
Dice peppers to small pieces.
Combine turkey with seasonings (garlic, sauce, ricotta, breadcrumbs) and diced peppers.
Roll into 2-ounce balls and press into patty. Place in freezer for 5-10 minutes to help keep form.
While chilling, combine aioli ingredients in blender and combine until smooth.
Prior to grilling, season with a healthy portion of salt and pepper on both sides.
Brush grill grate lightly with oil to help with any sticking.
Grill burgers until well-cooked on both sides. Melt cheese on last flip.
Brush buns with aioli and grill on exterior ring of charcoal grill until toasted.
Dress and top burger with additional aioli to taste.
Enjoy with friends and family.
More on SouthernFATTY.com!
Recipe by
Southern FATTY
at https://www.southernfatty.com/grilled-poblano-turkey-sliders/