Blackberry Goat Cheese Focaccia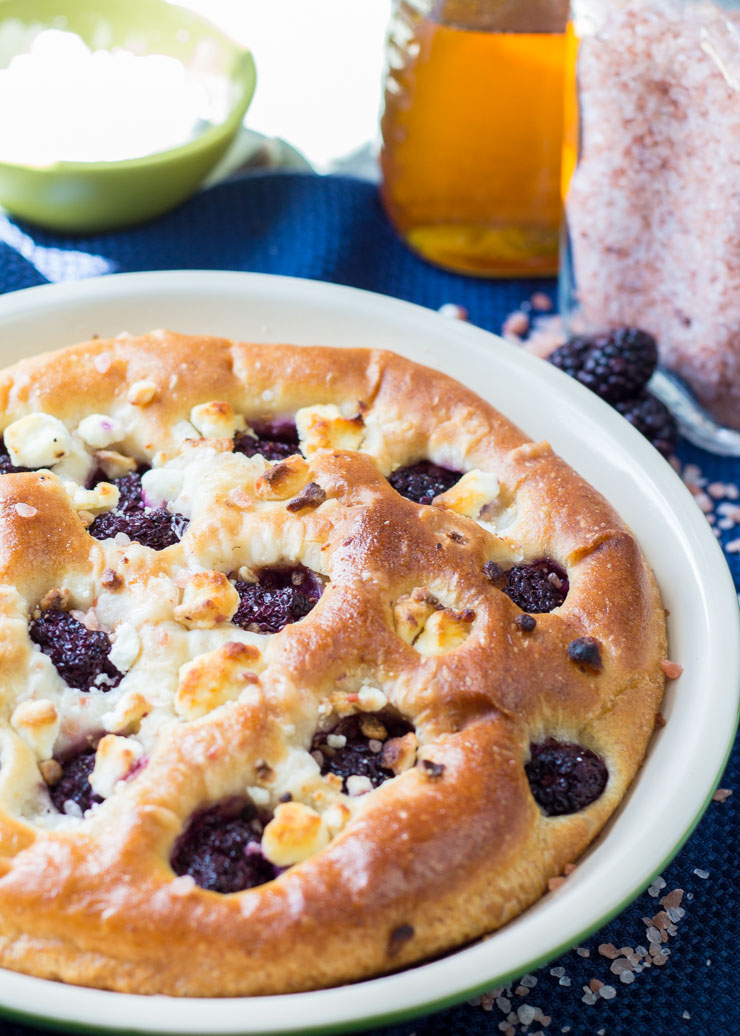 ⅔ cup water, warm
1 teaspoon yeast, active dry
½ cup olive oil
2 tablespoons almond flour
1 cup plus ½ cup bread flour
1 tablespoon honey
½ teaspoon salt
1 cup blackberries
½ cup goat cheese, crumbled
1 teaspoon pink salt (or other variety)
The day before you want to bake-- Combine ingredients. Cover bowl with wrap. Leave at room temperature overnight.
The day after you created the starter, add water and yeast to a mixing bowl. Let sit for 10 minutes until foamy.
Add the entire starter, olive oil, almond flour, bread flour, honey, salt. Mix slowly until combined.
Increase to medium speed with dough hook for 6 minutes.
Place dough ball in greased bowl. Cover with plastic wrap of a damp kitchen towel.
Let rise for an hour and a half.
Turn out onto lightly floured surface.
Fold dough in on all four sides.
Return to greased bowl.
Let rise again for another hour.
Lightly grease pan or skillet. (I prefer to use a Grill Skillet. Great ridges!)
Turn out dough into pan and lightly press into size.
Brush top lightly with olive oil. Cover with plastic wrap or damp kitchen towel and let rise for another hour.
Pre-heat oven to 425 F.
Press small dimples around the dough randomly. Be LIGHT with you touch. You don't want it to deflate.
Drop blackberries into dimples. Sprinkle goat cheese and salt.
Bake until golden, about 30 minutes. Watch closely, as you may need to place a foil tent over to prevent the topping from burning.
Remove to cool and enjoy.
--More on SouthernFATTY.com--
2015 - SouthernFATTY.com

NOTE: Freezes well. Wrap tightly once cooled in plastic wrap. Wrap in foil and freeze.
Recipe by
Southern FATTY
at https://www.southernfatty.com/blackberry-goat-cheese-focaccia/