Brûléed Banana Daiquiri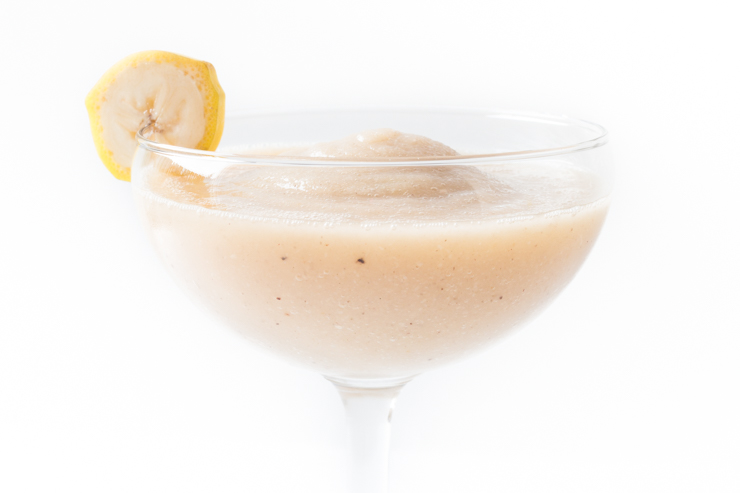 1 banana
1 tablespoon honey
1 ounce dark rum
1 tablespoon lime juice, freshly squeezed
2-4 tablespoons simple syrup (more or less for sweetness preference)
¼ teaspoon vanilla extract
2 ounces white rum
3 cups ice
1 ounce half & half (or cream if you're feeling wild)
Slice banana, still with peel on, in half lengthwise, leaving you with two long halves.
Heat a skillet or grill pan or grill itself over medium/medium-high heat.
Combine dark rum and honey in small bowl.
Use a brush to cover the exposed side of the banana halves generously with the mixture.
Grill the exposed banana until grill marks show, with darkened caramelized finish, about 3-4 minutes.
Remove and place on plate with grilled side facing upward.
Brush additional rum/honey mixture on banana and using a constantly moving kitchen torch to brûlée the top gently, taking care to not burn the mixture. Do this just as you would for a crème brûlée.
Repeat for other half and allow bananas cool completely.
Combine the cooled banana halves with all remaining ingredients except the half&half/cream in a quality blender. I prefer the Breville Boss.
Blend well until smooth.
Add cream and pulse momentarily to just combine.
Adjust sweetness as desired with to addition or simple syrup.
Pour and enjoy! -- More recipes on SouthernFATTY.com!