Peach Purple Basil Hand Pies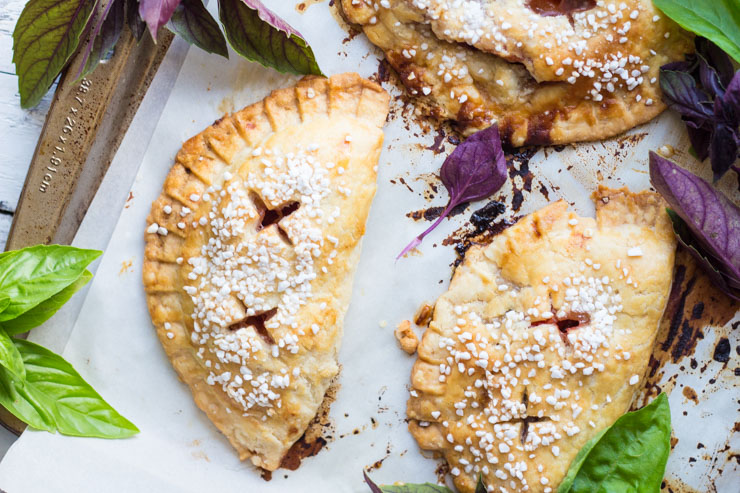 2 cups (250 grams) cups flour, AP
2 tablespoons sugar
1 teaspoon salt
2 sticks (226 grams) butter, unsalted, very cold
¼ cup water, ice water
2 cups sliced peaches, any variety works!
⅓ cup honey (I used spicy honey for this)
3 tablespoons purple basil, chopped
1 and ½ tablespoons cornstarch
1 teaspoon vanilla extract
1 teaspoon lemon juice
pinch salt
water
1 egg, beaten
1 tablespoon milk or cream
pearl sugar, to finish
In a bowl, whisk together flour, sugar and salt. You can use a food processor or mixer or do this by hand.
Cut very cold butter into cubes. Add butter to flour mixture and combine very roughly. If using food processor, pulse 5-7 times. If using mixer, mix until it resembles a very coarse blend. By hand, pinch butter with flour. You want butter to clearly be visible in beads in the dough.
Add cold ice water and combine softly until just comes together.
Split dough in half. Place each ball in plastic wrap and press into a disc.
Chill dough for at least an hour or two before continuing with pies.
Combine all of the filling ingredients except for the starch into a mixing bowl.
Stir well and let sit for 20 minutes.
After 20 minutes, pour the liquid into a separate bowl and whisk cornstarch into it well.
Return liquid to peaches and combine.
Let sit another 10 minutes.
During this final rest, remove one disc of the pastry dough from the refrigerator and let rest for a couple minutes to slightly soften.
On a lightly floured surface, roll out the first disc into a rectangle, about ⅛-1/4" thickness.
If using a pie crimp tool, cut a circular guide from parchment to use for dough cuts. Otherwise, cut matching sized shapes for pies.
Place pie dough circle onto floured crimper (if using), use a finger dipped into water to edge the dough where crimping.
Fill with 1-2 tablespoons of peach filling.
Crimp well and transfer pie to a paper-lined baking sheet (with edges, preferably). If not using a hand pie tool, use a fork to seal the half-moon shaped pies shut.
Transfer full baking sheet to chill and repeat with second disc of dough.
Chill all pies for at least 10-15 minutes before baking.
Heat oven to 400 F.
Combine egg and milk/cream. Brush tops of pies with egg wash. Sprinkle pearl sugar to finish. Cut slits into pie tops to allow steam to escape.
Bake until golden, about 20 minutes. Coll on racks.
Enjoy! -- More at SouthernFATTY.com
Recipe can easily be split in half.
-----
2015 - SouthernFATTY.com
Recipe by
Southern FATTY
at https://www.southernfatty.com/peach-purple-basil-hand-pies/