Drunken Pecan Crème Caramel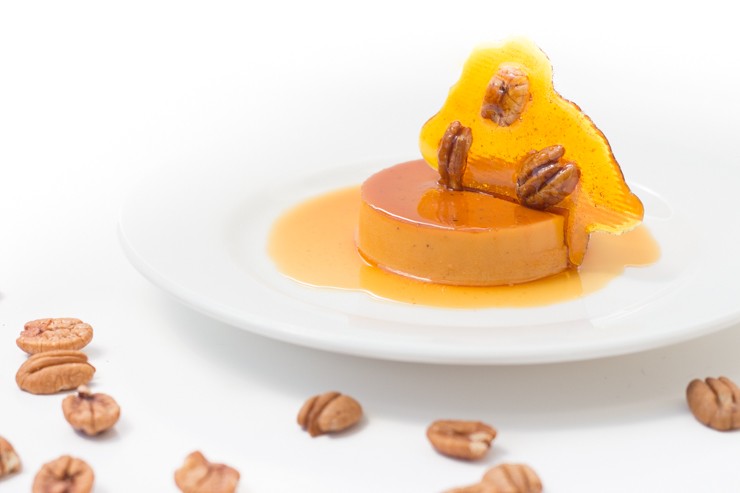 Serves:
4-6 pecan crème caramels, depending on size
1 cup sugar
¼ cup water
½ teaspoon lemon juice
water and pastry brush
pecan halves
5 egg yolks
½ cup sugar
¼ cup pecan liqueur (alternatively 1 teaspoon pecan extract)
1 teaspoon vanilla bean paste (or extract)
¼ teaspoon salt
2 cups cream (half/half, heavy or light cream all work)
Place ramekins out (4-6) and very lightly grease with cooking spray.
In a very clean pan, combine sugar, water, lemon juice. Stir until mixed.
Leave on medium heat (do not stir at all after the initial stir to blend) until it starts to brown around edges of saucepan. this may take some time. While waiting, use the pastry brush and water to carefully brush around pan sides to prevent sugar crystals from forming.
When browning starts around edges, gently swirl pan around to evenly distribute darker caramel. The caramel will start to darken very quickly. When a dark amber, remove and immediately pour into each ramekin.
Place some pecans on a silicone baking mat and pour the leftover caramel over to form small decorative brittle. Let cool.
Set ramekins to the side to cool and rest.
Pre-heat oven to 325 F.
In a prep bowl, combine yolks and sugar. Whisk until pale and fluffy. Add vanilla, salt and whisk well.
In a saucepan, heat cream over medium heat until bubbles start to appear. Do NOT boil. Once bubbles appear, remove from heat and add pecan liqueur (or extract).
Add a small amount of hot cream into the egg mixture while constantly whisking. Continue to add cream in portions while whisking until all is combined.
Portion cream into ramekins, on top of caramel.
Place ramekins into a deep baking dish (roasting pans work well).
Heat a kettle or pan of water until steaming.
Place dish with ramekins on oven rack and pull out slightly to easily access.
Pour water into dish until about halfway up ramekins. Carefully push rack back into oven.
Bake until the cream doesn't giggle, about 20-30 minutes. Turn off oven and leave inside closed oven for 15 minutes. Remove from pan and let ramekins reach room temperature (about an hour).
For best results, cover with wrap and chill over night.
When ready to serve, place inverted plate on ramekins, flip and lift.
Top with pecan brittle and enjoy!
--More recipe and pictures of steps on SouthernFATTY.com--
Recipe by
Southern FATTY
at https://www.southernfatty.com/drunken-pecan-creme-caramel/