Basic Macaron Recipe (and raspberry buttercream filling recipe)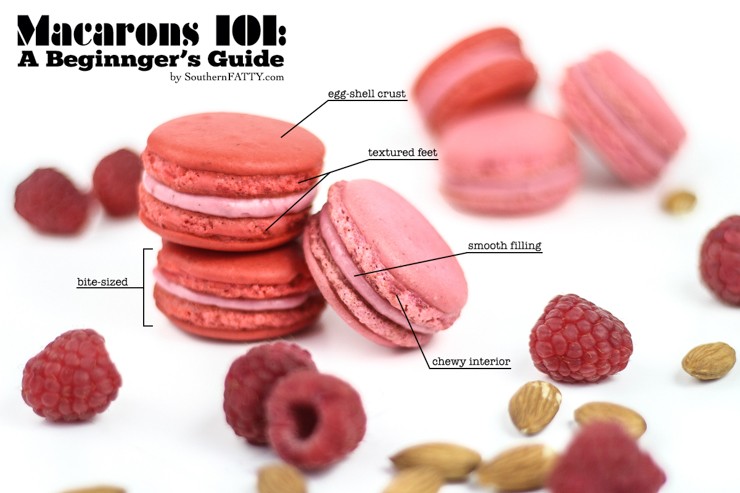 Author:
Phillip Fryman | SouthernFATTY.com
Serves:
~ 2 dozen constructed macarons
100 grams egg whites (3 large egg whites), room temperature
50 grams (1/4 cup) superfine sugar (granulated sugar in food processor until fine), (1/4 cup granulated sugar or a little less than half a cup of confectioner's sugar if using that instead)
200 grams (1 and ⅔ cup) confectioner's sugar
110 grams (1 cup) almond flour
¼ teaspoon cream of tartar
pinch salt
food coloring, optional (color will slightly lighten with baking)
8 tablespoons butter, unsalted, softened
1 cup raspberries, fresh
1 and ½ teaspoons vanilla bean paste or extract
12 ounces confectioner's sugar, sifted well
pinch salt
Place room temperature egg whitesin mixer bowl.
With whisk attachment, whisk at medium speed until foamy, about a minute.
Add superfine granulated sugar and cream of tartar. Mix until just stiff peaks form.
Add food coloring here if desired. Add a bit more than you think you need, as it will fade slightly when baking.
In different bowl, sift together almond flour and confectioner's sugar. Repeat and sift a couple times, removing any large pieces left behind after each sift.
Add almond flour mix to stiffened egg whites.
Using proper folding technique (see blog post for an explanation of this), fold until you can ribbon an "8" that holds into the batter. This may take about 40-60 proper strokes, depending on your folding style. THIS is the most important step in proper macarons.
Visit the blog post for full instructions.
Pipe macaron circles onto paper-lined baking sheets using the macaron template and instructions available HERE.
Let the shells rest for 30 minutes to form hardened tops.
Bake at 300 F for about 16 minutes. Be sure your oven temperature is exact.
Remove and let cool completely before removing from baking sheets.
Add softened butter to mixer. Whip until smooth.
Add remaining ingredients and mix until smooth. Add more confectioner's sugar as needed for tight enough texture.
Pipe filling between two shells and enjoy!
Visit SouthernFATTY.com for more.
Recipe by
Southern FATTY
at https://www.southernfatty.com/macarons-101/