Brown Butter Butternut Cream Pasta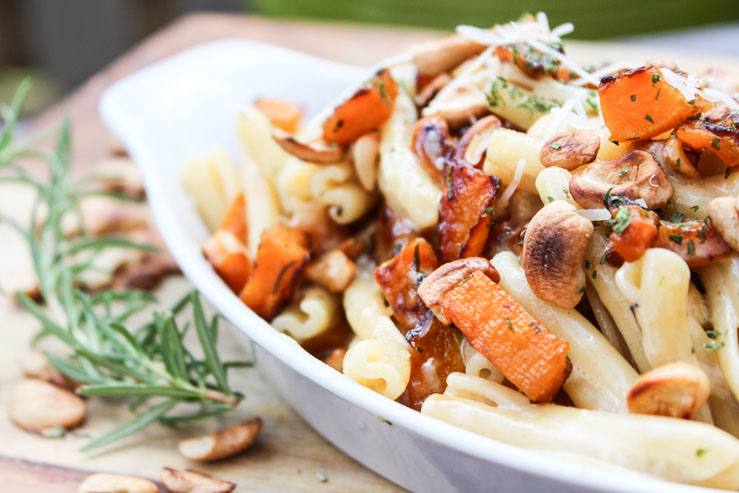 1 lb butternut squash, cubed
2 tablespoons brown sugar
2 tablespoons butter, unsalted
½ teaspoon garlic salt
1 teaspoon rosemary, chopped
5 tablespoons butter, unsalted
¼ teaspoon salt
¼ cup heavy cream
8 oz pasta
½ cup parmesan, freshly grated
½ cup onion, sautéed and caramelized (can prepare ahead of time)
½ cup cashews, raw (Trader Joe's has great ones)
¼ teaspoon salt
Pre-heat oven to 450 F.
Melt butter in microwave in dish.
Add brown sugar, garlic salt, rosemary. Mix well.
Toss with cubed butternut squash.
Lay in single layer on parchment or baking mat on sheet pan.
Bake until caramelized, about 40 minutes, turning/tossing every 10 minutes as needed.
Remove to cool to handle.
Cook pasta per directions provided. While pasta is cooking, prepare the sauce and cashews:
In a dry pan over medium heat, roast cashews until golden and caramelized to taste, stirring as needed.
Add salt and toss well. Remove to cool.
Heat butter with salt in saucepan over medium-medium/low heat until starts to tint to a light brown. Be cautious, as the line between brown butter and burned butter is very fine.
Remove from heat when browned, add cream and stir continuously. It will bubble quite a bit. Keep stirring until mixed.
Drain cooked pasta well. No not rinse.
Place pasta back in warm pan of brown butter cream sauce.
Add cheese and stir.
Mix in butternut squash, onion, half of the cooled roasted cashews. Toss together.
Top with remaining cashews and serve warm.
Enjoy! Visit SouthernFATTY.com for more recipes.
Recipe by
Southern FATTY
at https://www.southernfatty.com/brown-butter-butternut-cream-pasta/