Roasted Tomato Pepper Mayo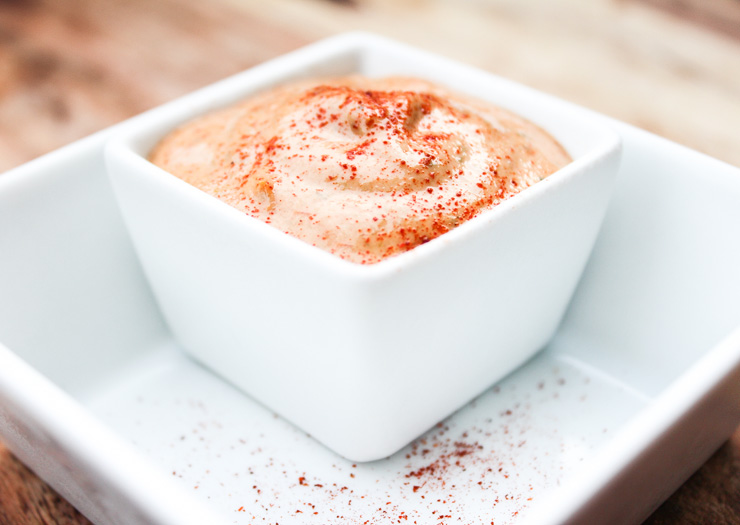 2 tomatoes (roast more and keep them for other recipes!)
2 cloves garlic, minced
salt and pepper
½ tablespoon oregano, chopped
½ tablespoon basil, chopped
1 tablespoon brown sugar
olive oil
2 poblano peppers
hot grill
½ to ¾ cup mayonnaise
½ teaspoon salt
¼ teaspoon pepper, freshly ground
¼ teaspoon paprika
Pre-heat oven to 425 F.
Half tomatoes. Leave seeds, etc. in tact.
In a large bowl, toss tomatoes with enough olive oil to coat.
Sprinkle oregano, basil, salt, pepper and sugar.. Toss well.
In a large oven-safe skillet, place tomatoes cut down down.
Place in oven.
Cut pointed end of garlic head off with kitchen shears or knife.
In tiny oven-safe dish, toss garlic head in olive oil. Place stem side down (cut side up).
Cover with foil.
Bake both for ~30-40 minutes.
Remove tomatoes when shriveled and roasted to cool.
After 30 minutes, remove foil from top of garlic dish. Let roast for additional 15 minutes.
Remove and allow to cool.
When cooled, remove roasted garlic. Squeeze and pull cloves out until all of the garlic is removed from head.
Place poblano peppers over very hot grill, preferably over direct flame.
Roast until charred on each side of peppers.
Remove to cool completely.
Preferably with gloves, peel off charred skin and keep peppers. Dispose of seeds. (or keep if you prefer a spicy sauce)
Combine all prepared ingredients (tomatoes with skins and all, garlic, peppers) with mayo and seasoning in blender.
Blend very well, until smooth.
If seeds exist after blending, strain. I did not have to do this, as my blender created a smooth finished product.
Enjoy! Keep refrigerated.
Visit SouthernFATTY.com for more recipes and pictures!
Serving size:
½ tablespoon
Recipe by
Southern FATTY
at https://www.southernfatty.com/roasted-tomato-pepper-mayo/