Oatmeal Cranberry Cream Pies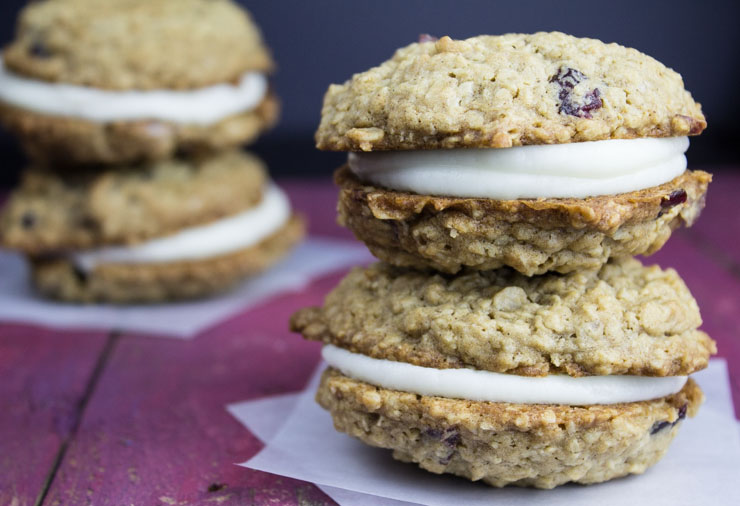 Serves:
1 dozen cookie cream pies
20 Tablespoons Butter, unsalted, softened (2 and ½ sticks)
¾ cup brown sugar, dark
½ cup sugar
1 and ½ tablespoons molasses
2 teaspoons vanilla extract or vanilla bean paste
1 egg
1 teaspoon baking powder
½ teaspoon salt
¾ teaspoon cinnamon, ground
small pinch cloves, ground
1 and ½ cups flour
3 cups quick oats
1 cup dehydrated cranberries or Craisins
8 ounces cream cheese
½ cup powdered sugar
Pre-heat oven to 375 F.
Cream butter, brown sugar, white sugar until lighter and smooth.
Add egg, vanilla, molasses and mix well.
Combine all dry ingredients together and mix well.
Slowly mix dry into wet and mix. Mix in cranberries/Craisins.
Note: Cookie dough will be VERY thick. This is fine.
Add by scoops and bake for 10 minutes. Remove and cool completely.
Sift powdered sugar to remove any clumps.
Mix cream cheese and powdered sugar in mixer until smooth.
Combine two cookies with frosting between.
Enjoy! Visit SouthernFATTY.com for more.
2014 - SouthernFATTY.com


(Modified from myrecipes.com recipe)
Serving size:
1 cookie cream pie
Recipe by
Southern FATTY
at https://www.southernfatty.com/oatmeal-cranberry-cream-pies/