Zucchini Fritters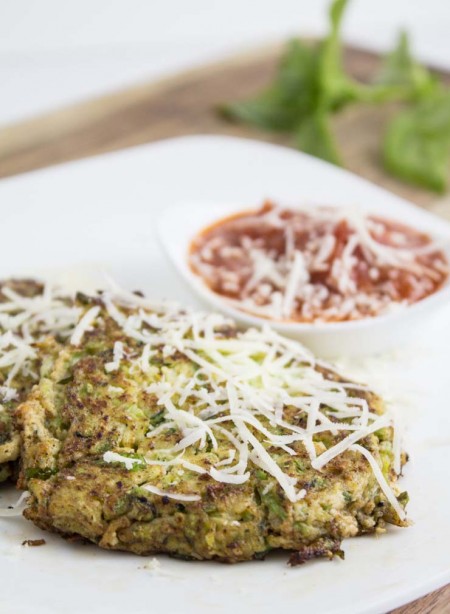 1 pound zucchini (about 2 small-med zucchini usually)
½ tablespoon salt
1 egg, beaten
¾ cup flour
½ cup parmesan cheese, freshly grated
½ teaspoon garlic powder or granulated garlic
⅛ teaspoon onion powder
¼ cup fresh parsley, chopped
¼ cup fresh basil, chopped
salt and pepper, to taste
Grate zucchini with grater or food processor.
Use kitchen towel of cheesecloth to squeeze water from zucchini.
Lay out in a single layer on top of kitchen towel or paper towels.
Sprinkle with half tablespoon of salt. Let sit for 10-15 minutes. You will notice water extracted from zucchini.
After time is up, rinse well but quickly with cool water. Squeeze and pat dry.
Mix zucchini with beaten egg, cheese, flour, seasonings and herbs.
Form into balls and press into heated pan with a bit of oil to a fritter shape.
Cook until golden on each side, flipping carefully.
Enjoy with marinara, aioli, etc.
Visit SouthernFATTY.com for more.