Strawberry Cinnamon Chip Scones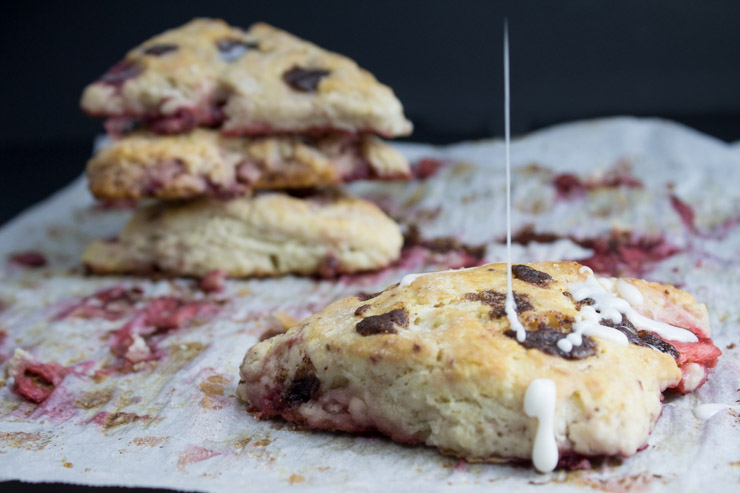 2 cups flour, all-purpose
¼ cup sugar
1 tablespoon baking powder
½ teaspoon salt
6 tablespoons butter, cold & cubed (I freeze mine)
1 cup heavy cream
½ teaspoon lemon zest
1 cup strawberries, chopped
½ cup cinnamon chips
melted butter, optional for brushing
raw or turbinado sugar, optional for brushing
2 cups powdered sugar
1-2 tablespoons milk
1 tablespoon butter, melted
Pre-heat oven to 400 F.
Sift dry ingredients together in bowl.
Cut in cold butter until coarse, pea-like texture. Keep very cold and work quickly.
Mix in cream, lemon zest and combine.
Fold in strawberries and cinnamon chips.
Dough will be very sticky. Do not add any additional flour!
On a floured surface, press out dough to rectangular shape, about ½" thick.
Cut out triangle with sharp knife.
Place carefully on parchment covered baking sheet.
Brush tops with melted butter and sprinkle with sugar. I prefer turbinado or raw sugar for this.
Bake until golden, about 25 minutes.
Cool and enjoy! Visit SouthernFATTY.com for more.
Recipe by
Southern FATTY
at https://www.southernfatty.com/strawberry-cinnamon-chip-scones/