Homemade Marshmallow Peeps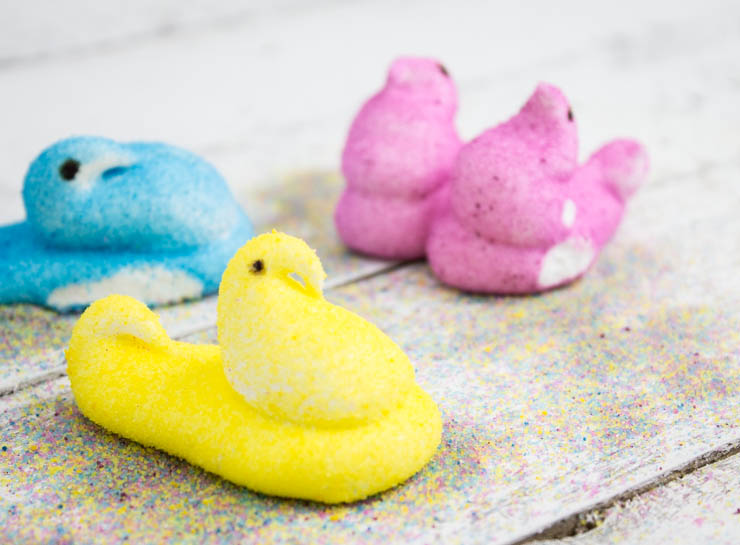 1 cup sugar for each color, in Ziplock bag
food coloring, any type
1 packet gelatin
⅓ cup water
1 cup sugar
¼ cup water
1 teaspoon vanilla extract
cocoa powder + tiny bit of water, optional - for eyes
Combine 1 cup sugar in Ziplock bag with coloring.
Mix until well combined, several minutes.
Sift larger pieces out.
In mixer bowl, put ⅓ cup cold water.
Empty packet of gelatin over water and let sit while you make sugar mixture.
In saucepan, combine 1 cup sugar and ¼ cup water.
Swirl to combine well.
Using a candy thermometer, heat over medium heat until it reaches soft ball stage (238 F).
Do not stir during this process. If crystals form on pan walls, use brush with water to dissolve it back down.
When at 238 F, remove from heat and slowly pour into mixer bowl with gelatin.
Stir by hand for a couple minute to break any gelatin lumps.
When cooled slightly, place on mixer with whisk attachment and combine at medium-high speed until white and somewhat stiff. About 8-9 minutes.
Immediately transfer to large piping bag (14" works well) with ½" tip. Alternatively, use gallon Ziplock bag with corner cut.
With colored sugar in a shallow dish, pipe chick shapes directly into the sugar. If the shape doesn't hold, let the mixture cool for a minute or two and try again.
See blog post for piping technique.
Use spoon to cover marshmallow chicks with sugar. Let cool for 30 minutes on tray.
Enjoy! -- Visit SouthernFATTY.com to tell us what shapes you made!
SouthernFATTY.com ®2014

Peeps® are a REGISTERED TRADEMARK of Just Born, Inc.
Recipe by
Southern FATTY
at https://www.southernfatty.com/homemade-peeps/