Puff Pastry Dough {Laminated}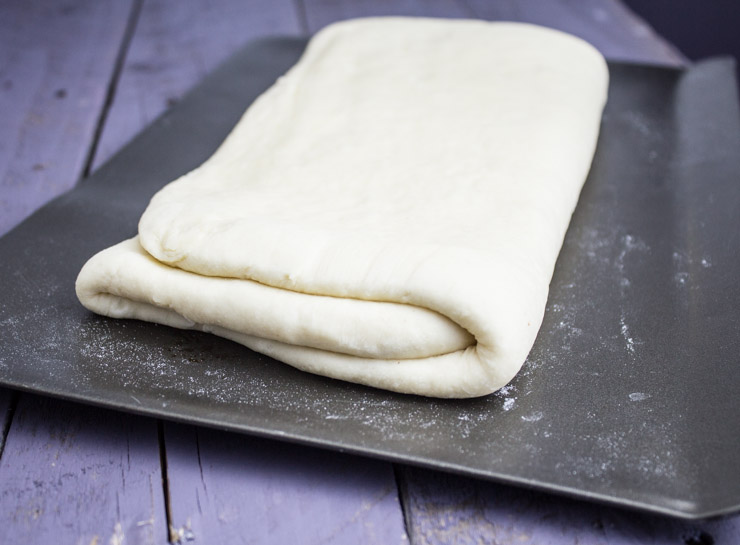 2 cups (280 g) flour, all-purpose
⅔ cup milk
2 tablespoons (30 grams) sugar
2 teaspoons yeast, active dry
½ teaspoon salt
1 egg
1 cup butter, unsalted
1 & ½ tablespoons flour
Work quickly! You want the butter to stay cool so it doesn't melt into the dough layers. If you are slower, chill move often.
Begin by pounding out butter to soften. Do this with a rolling pin on parchment paper.
Sprinkle flour onto butter.
Pound out to a large square at about ¼-1/2 inch thickness.
Transfer butter to chill.
Mix all dough ingredients in mixer with hook attachment. Mix until combined.
Let dough rise, covered with a damp kitchen rag, for 45 minutes at room temperature.
Chill overnight to rise.
Remove dough and roll out to a large square, a few inches larger than the butter slab. Use enough flour on the surface to roll so it doesn't stick, but use a pastry brush to brush off as much excess as possible.
Place butter (see image in blog post above) in center and fold corners of dough over sides of butter to close.
Strike seams with roller to close completely.
Roll rough out to a rectangle. Fold like an envelope. Right side ⅔ way over. Left side over that to result in a tri-folded rectangle. Chill for 30 minutes.
Remove and roll out to a rectangle again. Fold. Chill.
You will do this until you have completed folds. (3-4 for danish, 5-6 for croissant)
Chill for an hour after last fold.
Roll out and cut into shapes desired for pastry.
This dough freezes well. Allow to thaw overnight in refrigerator before use.
Visit SouthernFATTY.com for more!
Recipe by
Southern FATTY
at https://www.southernfatty.com/puff-pastry/