Candied Pecan Cheese Danish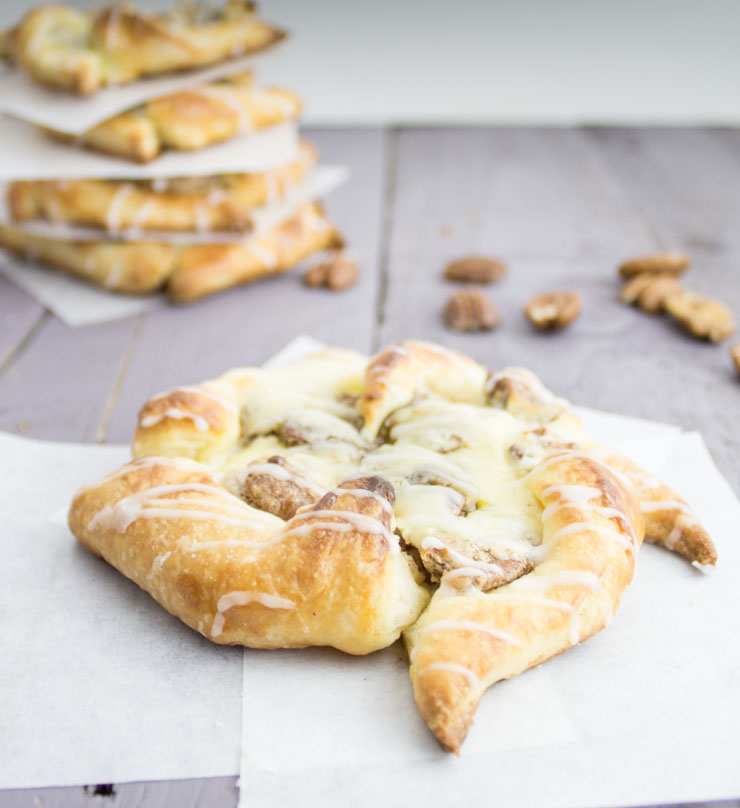 1 recipe puff pastry dough or 1 box frozen puff pastry
1 batch candied pecans
8 oz cream cheese, room temp.
½ cup sugar
2 eggs, separate whites and yolks
1 teaspoon vanilla extract
Pre-heat oven to 400 F.
Cut pastry dough into 4 inch squares. Lay out on paper coated baking sheet about an inch apart.
Place dough back in refrigerator. It has to stay very cold until the moment you bake it.
Mix cream cheese, sugar, 2 egg yolks and vanilla until combined.
Sprinkle chopped candied pecans onto dough. (alternatively on top of cheese instead)
Spoon about a tablespoons of cream cheese mixture to center of pastry dough square.
For pinwheels, cut slightly in at each corner and fold one corner flap in for each side.
Brush exposed puff pastry with egg whites.
Bake for 15-20 minutes until golden brown.
Cool and enjoy!
Visit us at SouthernFATTY.com and let us know how they were!
®2014 SouthernFATTY.com - Sharing encouraged with proper linked credit.
Recipe by
Southern FATTY
at https://www.southernfatty.com/cheese-danish/