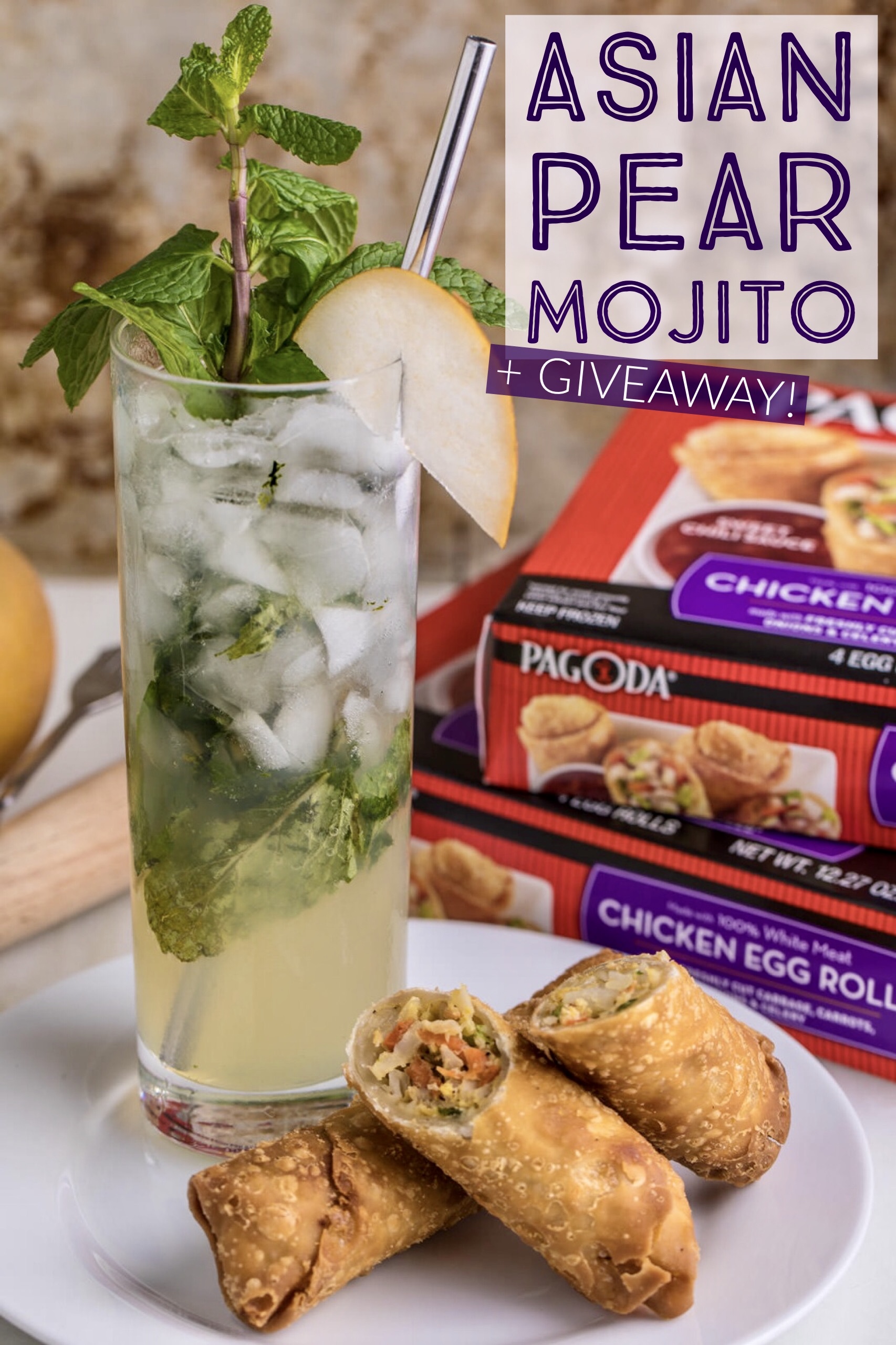 The leaves have changed from green to beautiful shades of red and yellow, and are now falling here in Nashville. Fall is in full swing, and I'm sharing how I like to celebrate my favorite season with a double whammy — snacks AND drinks! The way I see it, if you are going to have great snacks, you should definitely spend a minute to mix up a perfect drink to tag along. I'm mixing up a delicious Asian Pear Mojito (cocktail + mocktail option). — (Keep reading to enter to win a big gift basket, too!)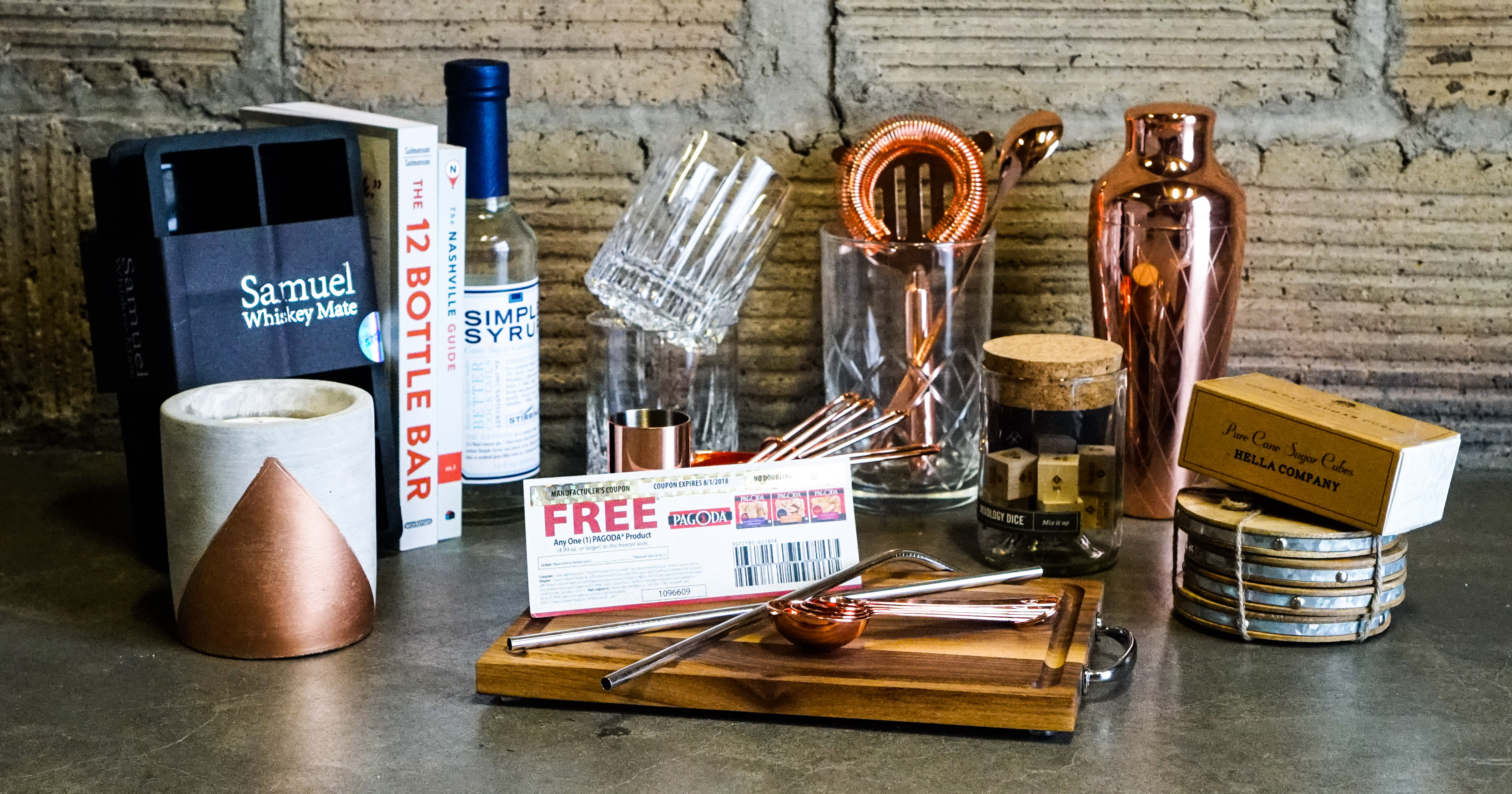 Read through to the end to find out how to win a prize package full
of home and bar goodies, along with some Pagoda Snacks bites!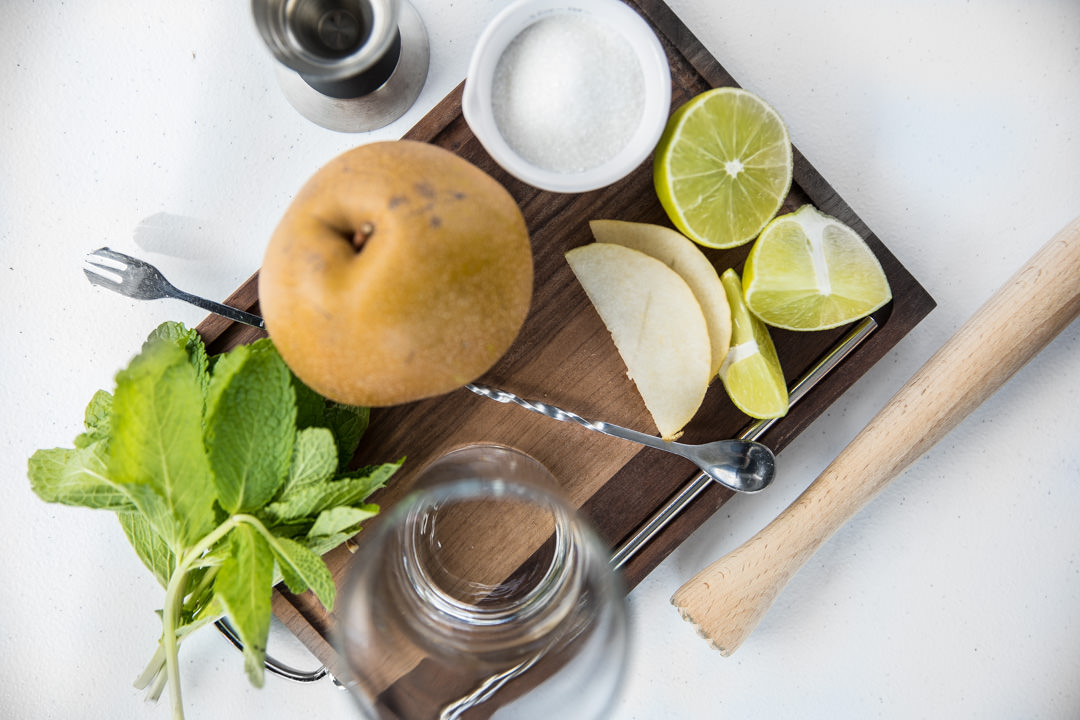 It should be no surprise that I absolutely love crispy snacks and sides. It should also be of no revelation that there are times when I want something super simple, for myself or for when I am making bites for friends. When Pagoda Snacks reached out recently to ask me to help develop a mocktail to pair with their egg rolls for a Nashville event, I jumped on the opportunity. It's basically everything that I love all wrapped in one bright red food truck.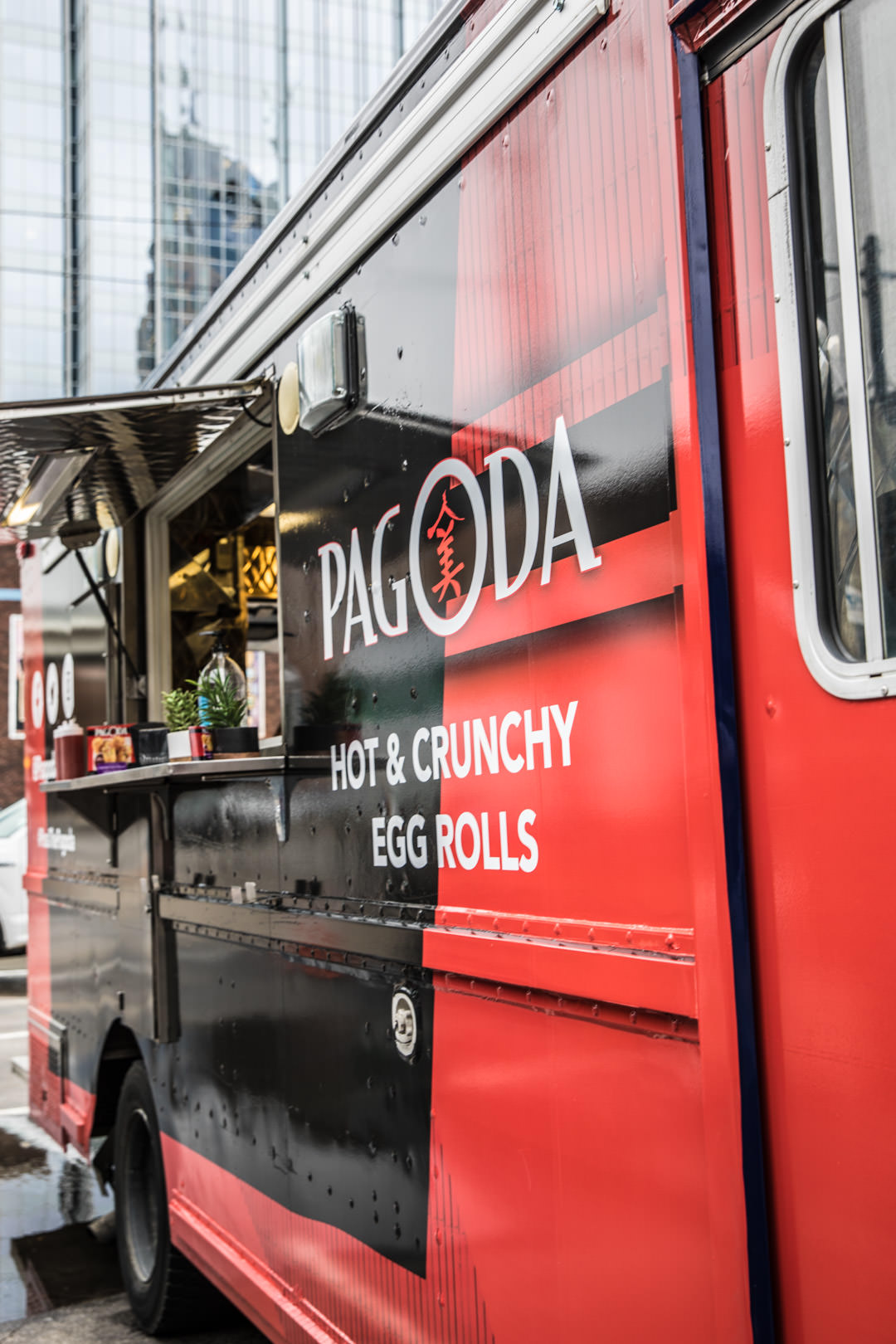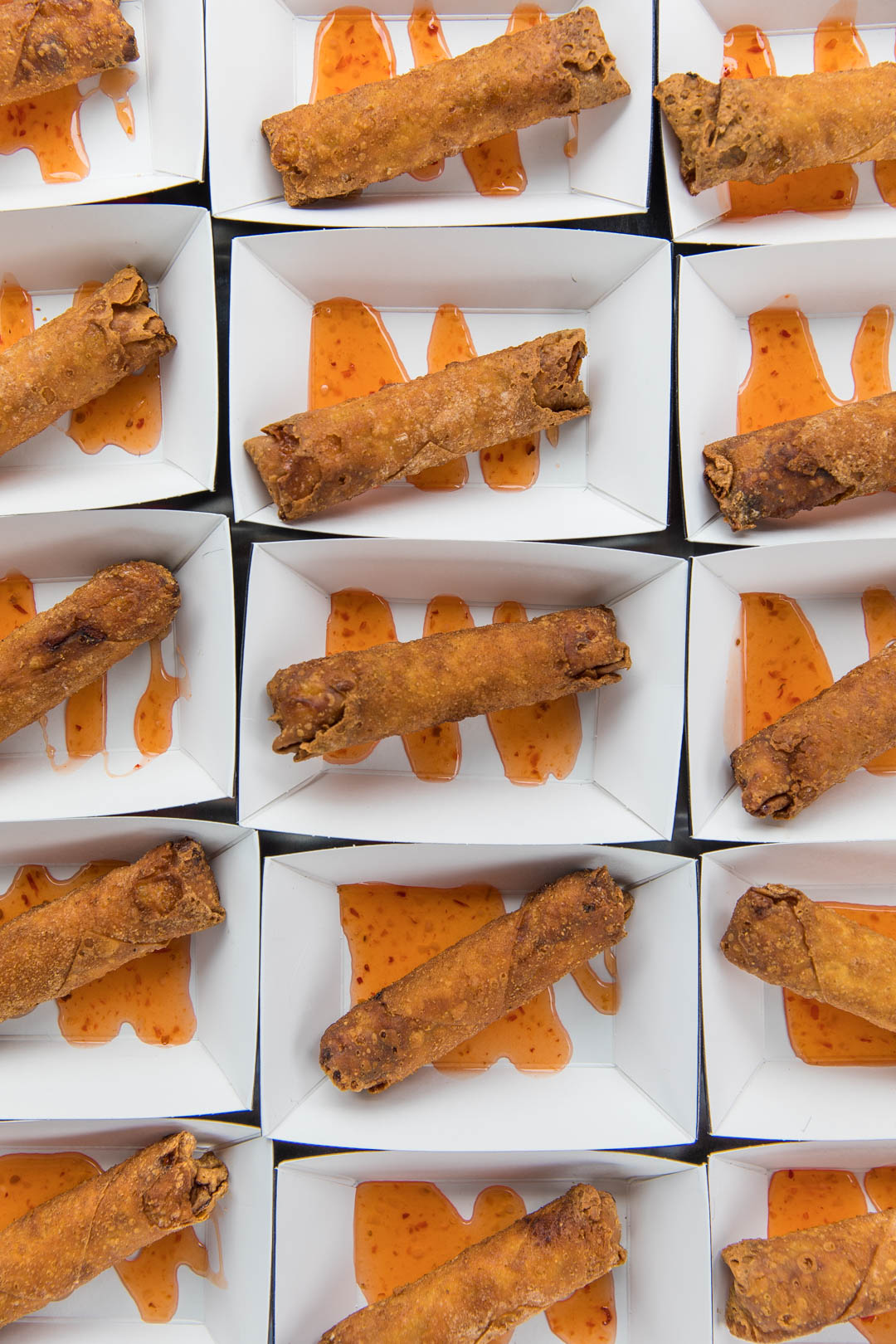 The CMA Awards are one of the most popular Downtown Nashville events. Tons and tons of locals and tourists alike all browse the iconic Broadway strip for the entire week to experience some of the best talent in the south. Pagoda wanted to be right in the middle of the fun, so they set up a food truck packed to the roof with egg rolls and passed them out for people to try. Every good snack has to have a great drink, so I took one of my absolute favorite fall ingredients, Asian pears, and made a twist on the classic mint mojito to serve alongside.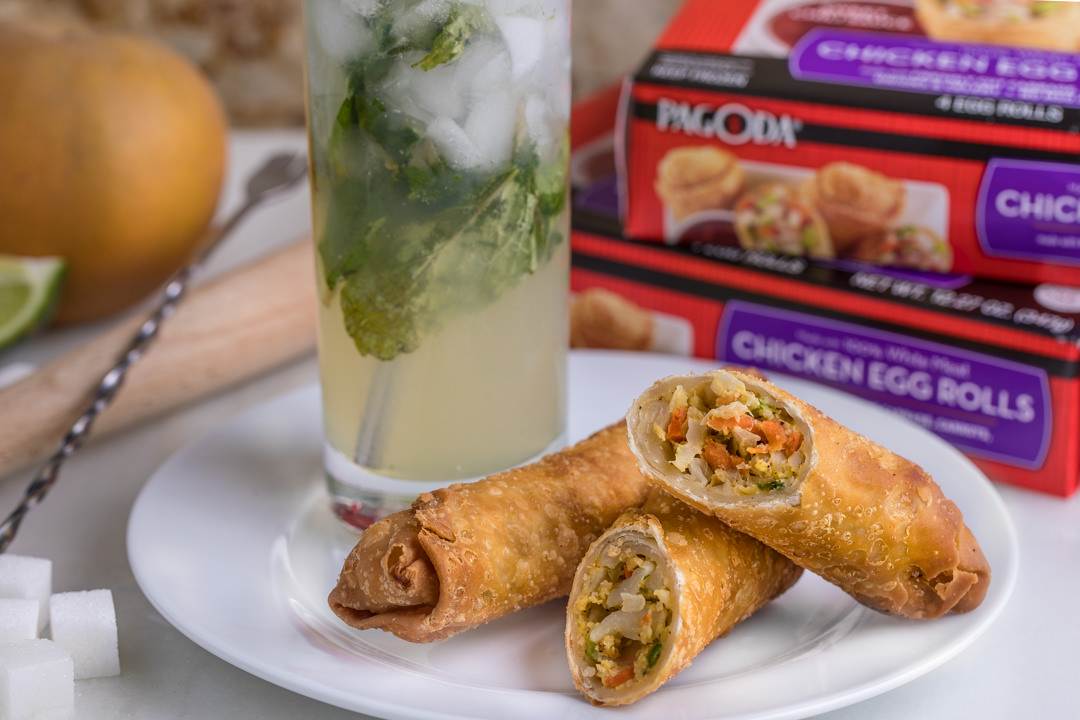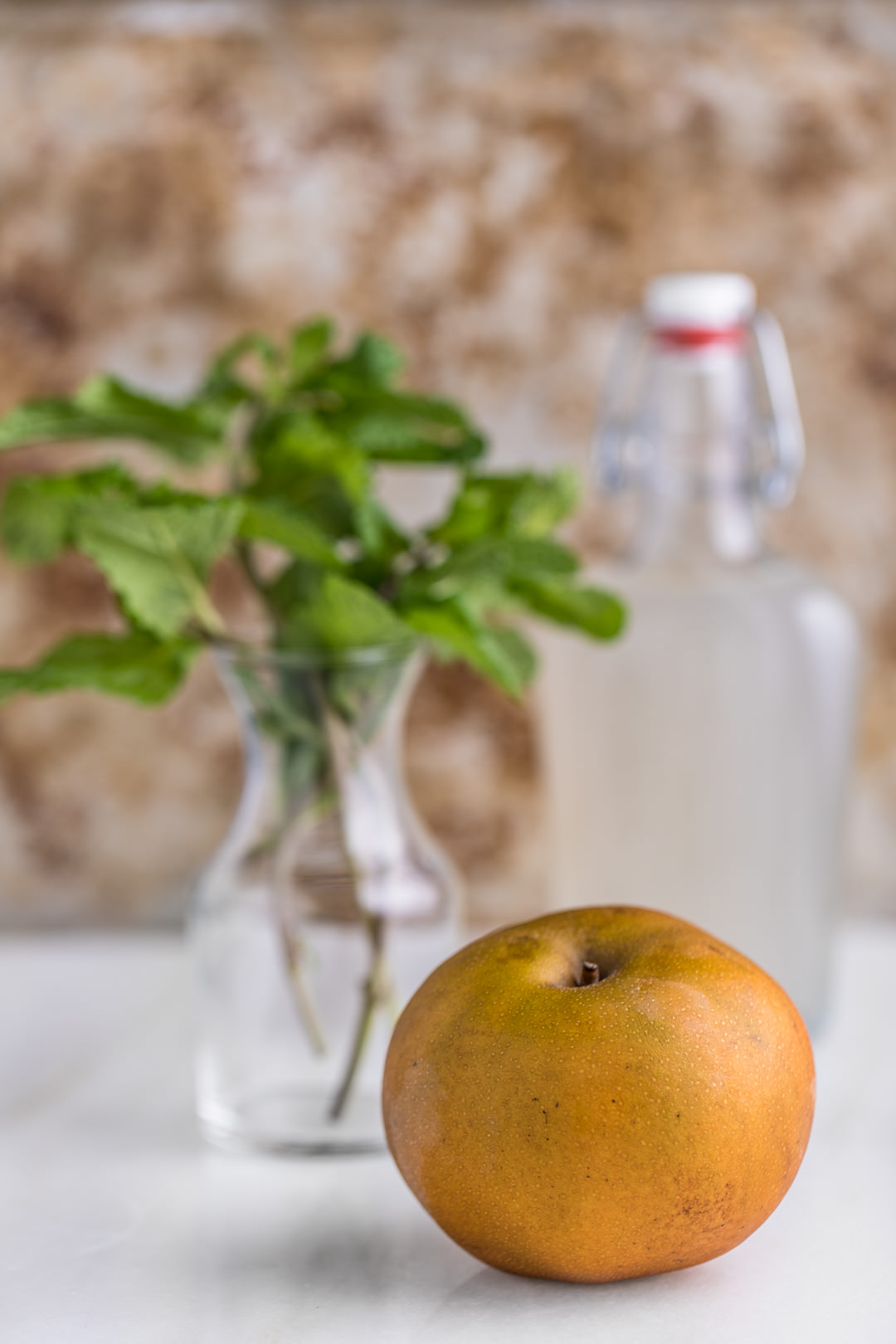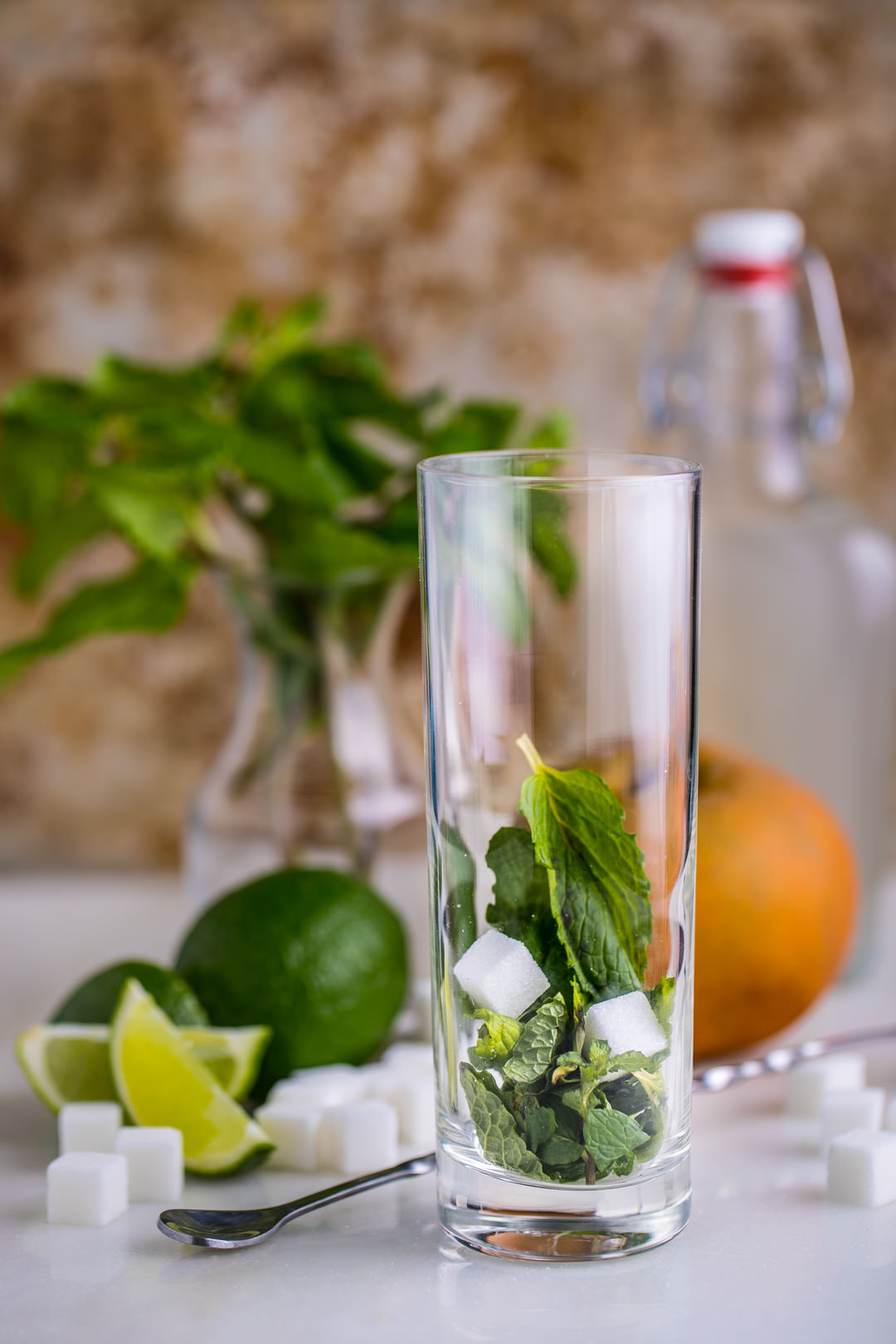 Pagoda not only makes egg rolls (Chicken, Vegetable, Pork), but also Potstickers (Chicken and Pork), Wontons (hellloooooooo, Korean Style BBQ Beef!) and more. You can find all of the delicious options in the freezer section of your grocery. If you want to pinpoint exactly what outlets have them, check out the locator here. — Honestly, y'all. These are all just great. The chicken egg rolls featured in the photos are 100% white meat chicken, no MSG, no preservatives, made-from-scratch wrappers. They are one of America's (and my own) most popular egg rolls for a reason.
The fresh taste of the egg rolls made for a match made in pear-fect snack heaven when next to the Asian pear mojito. Asian pears are those fat little round fruits that look more similar to an apple than a pear when you see them. They are very common to find in the fall and winter. They have a beautiful speckled look, and stay quite firm in texture. Don't let the firmness fool you. Believed to be the oldest cultivated pear, they are packed full of delicious juice. We'll simmer them in a simple sugar syrup to extract the aromatic essence to mix into our drinks.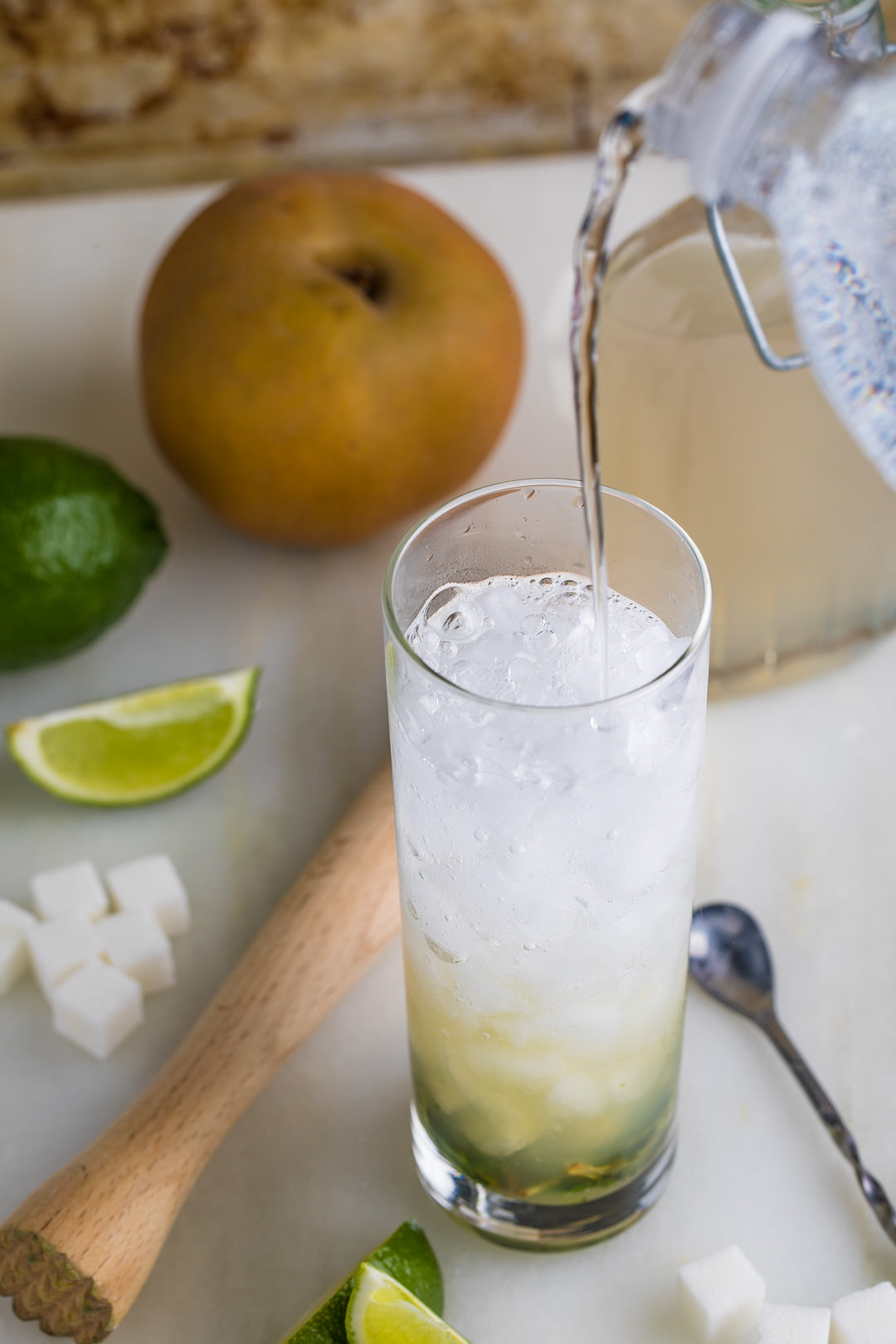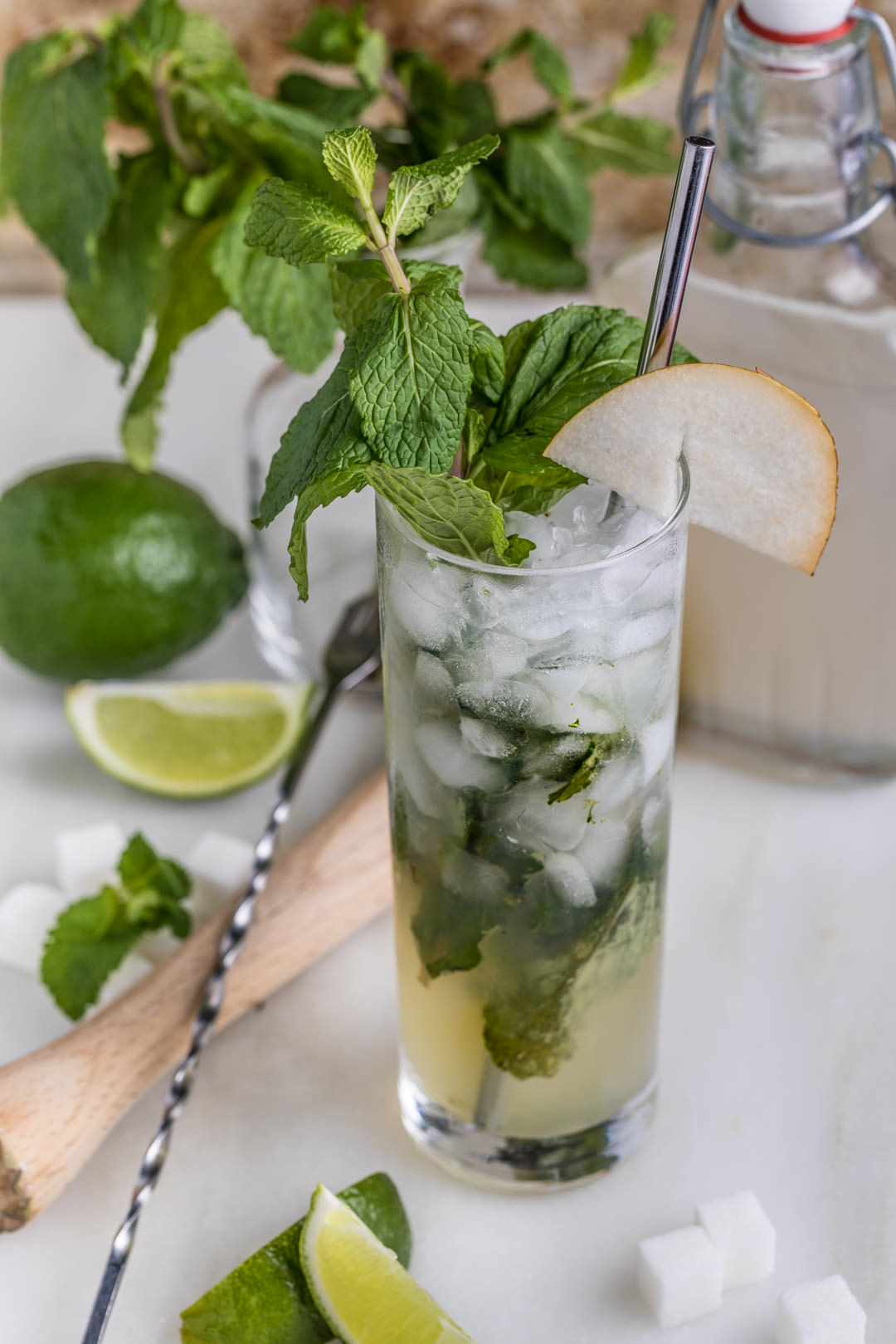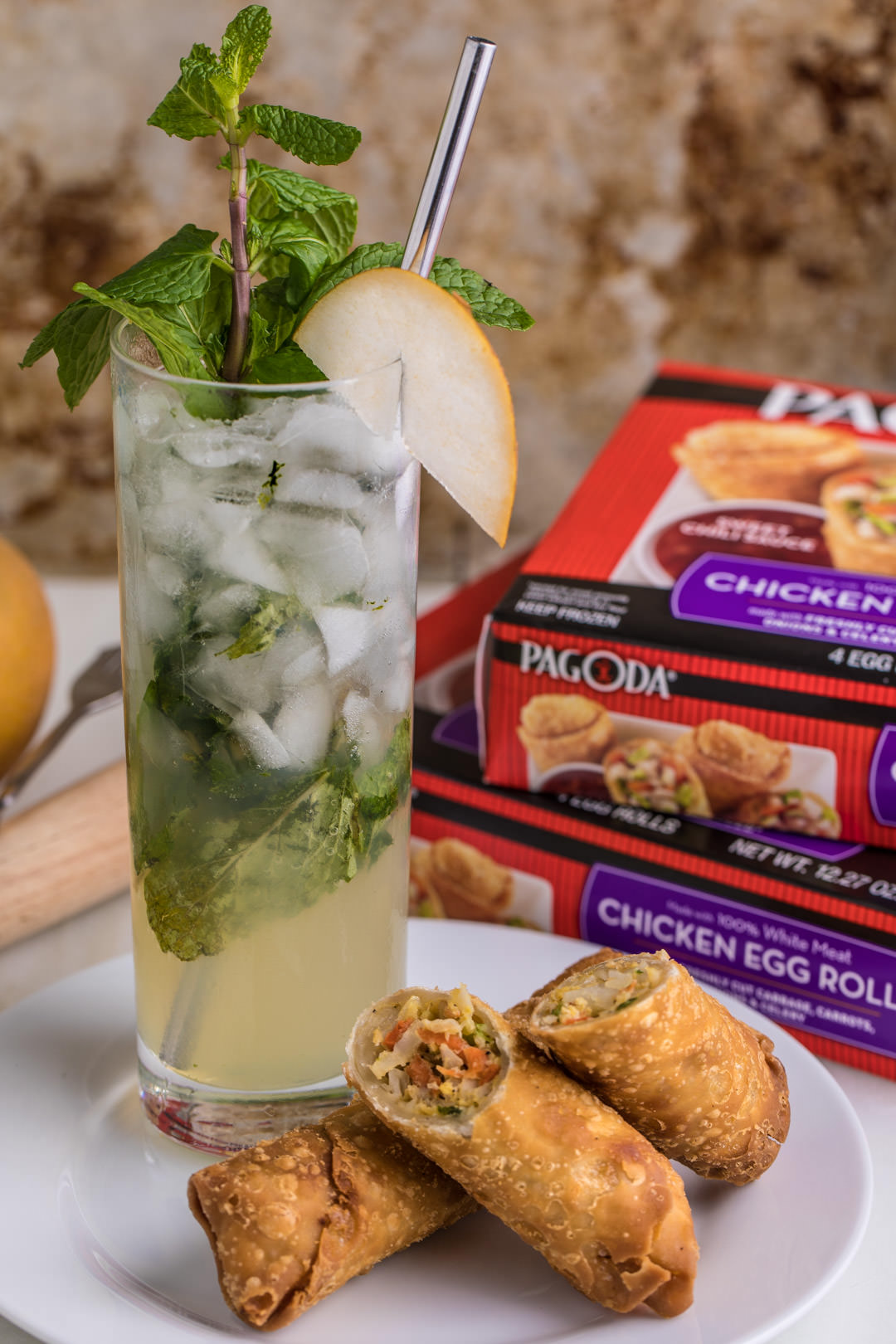 Fresh and sparkling, this cocktail is the best sidekick to serve with your favorite snacks. The pear twist leaves you with a taste of fall and a plenty of simple snacks to share with friends. Cheers!
---
GIVEAWAY! Read below to enter to win.
Want to enter to win a prize pack full of
goodies that I picked out for you all?
It includes some Nashville favorites, bar
essentials, and plenty of Pagoda bites!
TO ENTER:
LEAVE A COMMENT

BELOW to tell me what your favorite bar or kitchen essential is.

AND THEN… head over to the Pagoda Snacks Facebook page to enter to win.
Be sure to tell them the Fatty sent ya! 
Not required, but it'll make me smile. Sign up for our email notifications to see new recipes! —> SUBSCRIBE
---
Asian Pear Mojito (mocktail or cocktail)
Fall flavor twist on a classic mint mojito recipe. Asian pear infused simple syrup take this cocktail to a whole new level. From SouthernFatty.com
Author:
Phillip Fryman | SouthernFATTY.com
Ingredients
Asian Pear Mojito
8 leaves mint, fresh
1 teaspoon white granulated sugar
½ ounce lime juice, freshly squeezed
1 ounce Asian pear simple syrup, recipe follows
4 ounces club soda, to finish
1 ounce white rum, optional for cocktail instead of mocktail
Asian Pear Simple Syrup
1 Asian pear, diced
1 cup sugar
1 cup water
½ inch ginger root piece
Instructions
Asian Pear Simple Syrup
Make this first to allow time to cool.
Simmer all ingredients in a saucepan over medium low heat for about 10 minutes.
Strain and cool completely.
Asian Pear Mojito
Combine mint and sugar in glass.
Muddle to bruise mint and mix with sugar. Do not over-muddle.
Add lime juice and Asian pear simple syrup.
Fill glass with crushed ice.
Finish with club soda (and rum if cocktail).
Stir well and serve cold.
Enjoy! Find more recipe on SouthernFatty.com
Find Pagoda Snacks in your local grocery freezer section.
More product and location info can be found here.